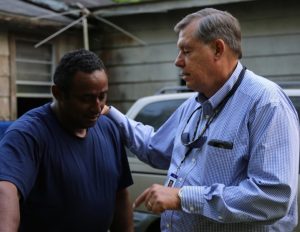 The Somebody Cares mission is to let people know that Somebody Cares. Because Jesus cares, we the Church care. As a result, through grassroots efforts, communities are being transformed and the Church is uniting. This is unity with a purpose. We mobilize Christians into evangelism, thereby transforming communities. We seek to identify ministries that empower people to reach their full potential and become all that God envisioned when He created them.
By standing side by side with our neighbors, we help them reclaim their community. We do not take over or do for others what they can do for themselves. Rather, we empower them so that they can do for themselves. Together, we are advancing the Gospel and building the Kingdom of God through compassion. None of this would have significant Kingdom impact without a constant commitment to personal integrity, family intimacy, and unified church interactions.
Together, we glorify God better! Impact the four corners of the world with Somebody Cares! Donate Now!