Blog
One Year After Harvey
ONE YEAR AFTER HARVEY: DAY ONE
REAL PEOPLE WITH VERY REAL NEEDS!
One year ago this week, Hurricane Harvey had already swept through the city of Rockport, TX—where its 130mph winds ripped off roofs and decimated buildings—and moved on to Houston, where it would stall for the next four days and dump a record 51" of rainfall. Our field rep from SC San Antonio was already in Rockport, had located in a staging area at Church Unlimited, and was preparing to begin serving hot meals with his Holy Smoke grill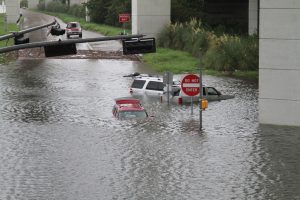 team in partnership with Mercy Chefs. In Houston, we were busy responding to calls for help from people who were stranded; locating resources for church partners that were setting up as shelters; and collaborating by daily conference call with numerous local and national church and ministry partners to facilitate aid.
Over the next months, the SCA network would provide assistance to church partners around the city so they could reach their neighborhoods with desperately needed supplies. But most of all, we would all be co-laboring to bring hope in a time of unprecedented need, meeting real needs of real people in real time:
A couple from Rockport returned to find not only their home destroyed, but the wife's art studio, including all of her supplies and paintings. Instead of giving in to discouragement, they instead came to our base camp and asked how they could help. They served faithfully over the next several days, helping prepare hot meals for their neighbors. Later, we were able to bless them with a team to help clean away the debris from their home. "All I could see was a mountain of debris. But when I saw your team of volunteers, I suddenly saw piles of debris that could be carried away," said the grateful husband.

SCA volunteers Clint and Darlene Burkey, who are also members of their local CERT, served families as they were rescued from flooded homes and brought to safety before being transported to shelters. "Clint and I saw first-hand the faces of terror and shock. The anguished expression of the children and elderly overwhelmed me to tears. Drenched and shivering and carrying small bags, they stepped out of rescue boats or climbed down a precarious ladder from the back of a high-rise truck." The Burkeys helped families find transportation, located separated family members, and provided comfort to the distressed, including a teen-age girl who broke down in tears. "We saw the Church, city government, and every day people working together," Darlene commented. "But most of all, we saw hearts touched by God."
A single mother with young children was battling cancer when Harvey hit and flooded her home. We were able to connect her with a team to help her with gutting her home, clean-up, and other urgent needs.
One of our church partners, Grace Y Poder, had been assisting a family with two children, including a six-year-old who uses his arms and hands for mobility due to a birth defect. The family was relocated to an apartment after their home flooded, but the young boy was unable to safely climb in and out of the too-tall bed. Cassy Smith, our volunteer coordinator, was able to locate new beds and bedding for him and his sibling.
These are just a few examples reflecting the countless numbers of individual lives that have been impacted in the past year thanks to your partnership, which has enabled so many front-line heroes to be the hands and feet of Jesus. And as the rebuilding and restoration continues, we will continue providing hope and help to those in need.
Thank you for caring!
Click here for more photos from last year's Harvey relief efforts!
ONE YEAR AFTER HARVEY: DAY 2
GRATEFUL FOR OUR BUSINESS PARTNERS!
When Hurricane Harvey hit the Texas Gulf Coast last year, the body of Christ throughout the region joined together to meet the overwhelming needs, along with churches and ministries from around the nation. But we were also blessed with so many businesses that supplied a wide variety of materials and services, from restaurants offering free meals to a dialysis clinic providing free treatments, to others helping struggling families just get through every day life with their in-kind donations.
While we cannot adequately express the depth of our gratitude for these marketplace partners, we would like to highlight two of them whose generosity allowed us to make a significant impact on the community.
A week after Harvey hit, the Lindell Foundation donated 50,000 MyPillows for Somebody Cares to distribute to residents who suffered loss in the storm. We directed 10,000 each to five locations: New Life Church in Houston; our base camp in Rockport; Gulf Coast Foursquare Church in Hitchcock; Harvest for Lost Souls in Beaumont; and Dominion Church in Dickinson. Each of these locations had church bodies who were actively serving their communities even in the midst of their own loss. They gladly took on the assignment of going door to door in some of the hardest hit areas to bless their neighbors with the gift of a good night's sleep!
"It was amazing to hear the relief in someone's voice with something as simple as a pillow," said one friend of the ministry who gave away 80 pillows. Another friend and her family walked the streets of a community where every home was flooded and gave out pillows, prayed with people, let people share their hearts with them, smiled, laughed, cried, and loved on each other. "The devastation is real, and the families were so grateful!" they said.
The first batch of 1,000 pillows unpacked at New Life Church went to the Houston Police Department, for the 200 families from HPD, local fire departments, and other first responders who lost their homes or suffered severe damage in the storm.
"This is the blessing we were given by the Lindell Foundation," Lisa Stringer said. "It is something practical, of good quality, and it is free to those who have great needs at this time. It is a tool God is using in the hands of His people to open doors for conversations and prayer, and it is a simple sign of hope. It's people loving people—It's that simple."
Seven months later—during Holy Week and Easter Weekend—Lisa and Doug got to personally bless a family through another business partnership. Conn's Appliances contacted SCA with a plan to surprise a number of families with new furniture and appliances but needed help locating the right recipients. Through some of our church partners, we were able to locate needy families, including a widow in Houston and another widow in Beaumont.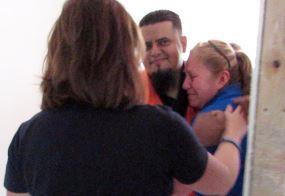 Zulma lost everything in her home when it was flooded with over four feet of water from Harvey. Ashford Community Church began helping her with remediation and repairs after she was unable to get assistance from FEMA. When Conn's showed up with a new washer and dryer, Zulma was overwhelmed and moved to tears. (Click here for video of Zulma receiving her appliances.)
The next day in Beaumont, Pastors Kennedy and Deanna Andrews from Harvest of Lost Souls, our distribution center for Somebody Cares Southeast Texas, had the joy of blessing Mrs. Loretta, a 71-year-old widow who cares for a disabled relative. They heard about Mrs. Loretta through a local city councilwoman.
"After losing everything due to Harvey, on Good Friday Mrs. Loretta received a brand new washer, dryer, mattress set, stove, and stainless steel refrigerator!" said Pastor Deanna. "To God be the glory!"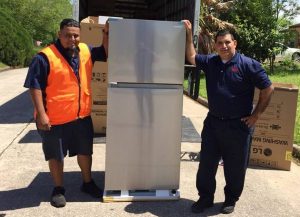 Throughout the weekend, Conn's worked with SCA partner churches to surprise families from Corpus Christi to Southeast Texas with appliances, mattresses, recliners, and more!
"We are so thankful for all of our business partnerships," says Doug Stringer. "When we see the Church, the government, and the marketplace co-labor together, we experience a greater synergy and impact than when we work alone. Thanks to each of you who continue to partner with us to rebuild and restore!"
ONE YEAR AFTER HARVEY: DAY THREE
 TEAMS BRING HOPE TO THE HURTING
Cassy Smith, a worship leader and minister from Baytown, Texas, has been connected with Somebody Cares since 2010, when she began serving with The Response prayer initiatives coordinated by Doug Stringer and held at various states around the U.S. She has also volunteered with our chapters in Scotland and Baltimore.
"Since I first became aware of Somebody Cares and met "The Net That Works," I knew I had found my tribe, my people."
What Cassy did not know is that God had new plans for her ministry and her relationship with Somebody Cares that would arrive along with Hurricane Harvey.
"On the evening of August 24, 2017, I had just landed in Houston, Texas, after serving 11 days with Somebody Cares Baltimore's Day of Hope outreach events. I kept seeing news reports and getting updates from my family about the impending hurricane, so I stayed glued to social media as Harvey made its landfall in Rockport, Texas. All this time, I never dreamed of what my purpose would be in the year to follow."
Greater Houston was pounded by non-stop rains as Harvey rested over the region from August 26-30. Catastrophic flooding began, and the SCA staff here in Houston found themselves stuck in their homes or being evacuated. If they could venture out it was not far, unless by boat.
SCA's Vice President Jodie Chiricosta contacted Cassy to see if she would receive forwarded phone calls that were coming into the Somebody Cares offices.
"I gladly agreed!" Cassy remembers. Throughout the next couple of weeks, she fielded calls but also helped organize details: teams coming to help, donations being sent, and churches who were serving as shelters receiving those goods. When the waters receded, the staff gathered at the office to debrief together for the first time since Harvey hit. "I jokingly told people throughout the rest of 2017 that I came to that meeting and never went home."
ARMIES OF VOLUNTEERS
Cassy has continued serving and has become the point person for anyone asking to volunteer or bring in teams. Nearly 300 volunteers were processed directly through the SCA office, but thousands more served throughout the Gulf Coast at churches, distribution centers, shelters, and outreach events facilitated by Somebody Cares. Other volunteers and skilled laborers who called during the crisis phase were connected with our chapters or locations that needed help.
"I have been so blessed to be in churches and homes hearing stories from both the team serving and the homeowners," she says. "Many of them had lost hope until 'this team from out of nowhere' arrived!"
Brett Miller, a Minneapolis Police Chaplain, connected to Somebody Cares through a fellow chaplain, Mike Lynch, who serves with our Holy Smoke grill team. Brett and six others came in October of 2017 and served in Deweyville, Texas, with Somebody Cares Jasper-Newton Counties."My objective was to scout out the range of areas impacted by Harvey and to evaluate the groups to see who would be a good match for the of skills and teams I was confident could be mobilized," he recalls. "Of the different groups, Somebody Cares had the healthy mix of local autonomy with sound organization and support coupled with the strongest sense of Christian Brotherhood capable of working across many boundaries. The welcoming spirit of Brad Bickham and First Baptist of Deweyville was one that I will not forget. It was like reuniting with family after a long separation–instant family."
Brett returned home and rallied teams from 25 different church congregations across Minnesota to come back to Deweyville. A total of 109 participants came with teams who served for one week at a time throughout March. More trips are planned throughout the year. (Click here to see video report and thank you message from First Baptist of Deweyville.)
One group that came from Minnesota was Team Rochester, led by Rose Korabek. Comprised of 34 volunteers, many of them skilled laborers, they also served in Deweyville. Team Rochester has also committed to long-term help for Southeast Texas.
Christian Outreach International has brought teams to serve, led by Mary Alice Isleib. She coordinated one team of 15 students and staff from Miami Valley Christian School, who chose to spend their winter break working in disaster relief. They made the 17 hour drive from Ohio and spent a week teaming up with Ashford Community Church to assist in rebuilding a local bilingual church.
"Disaster response is one of the most rewarding, heart-touching, friendship-making outreaches I know," Mary Alice said. "Thanks to Doug Stringer and Somebody Cares for what you mean to God and so many around the world, especially here in Houston. We hope to be back soon, as there is still so much to do."
THE PERSONAL TOUCH
Cassy has also experienced the joy of meeting people like Darlene, who have been served by our teams and partner churches.
"I was working with Somebody Cares in partnership with Conn's Home Goods to locate people who needed washers, dryers, or refrigerators, and I reached out to churches who had served as host sites for our teams. Soon a dozen names came back to me, one of which was Darlene."
Cassy phoned Darlene and told her about the donation of a washing machine. "She was thrilled! I did not have access to a truck at the time and most homeowners were coming to pick the appliances up. I said, 'Mrs. Darlene, would there be anyone who could come collect the washer for you?'"
Cassy could hear Darlene's voice breaking as she said, "Oh, honey. That would've been my sweetheart. He passed away in December."
The washing machine delivery was organized, and Cassy found a new friend in Mrs. Darlene. They finally met in person recently.
"She could not give thanks enough to God for providing during this traumatic season she and her family have endured," Cassy said. "As I sat on a plastic white lawn chair on concrete flooring that still bears the marks where wood floors once laid, I looked around at walls that had been 80% sheet-rocked but still needing texturing and paint. I saw a house emptied of its contents, but still so full of love because Darlene and her God of Peace were there."
ONGOING NEEDS
There are so many like Darlene, who have not only experienced the loss of personal property and goods, but also the loss of loved ones or other trauma. That is why Somebody Cares America is committed to the long-term recovery and rebuilding lives, consistently looking and reaching out so that no one falls through the cracks.
"I do not always have the funds to personally provide for each need I come across," Cassy says, "but I do have…TIME! We can show others that Somebody still Cares by giving our time and attention. A year after Hurricane Harvey blew through, I am committed to making my time on this earth count for an eternity!"
Somebody Cares is thankful for all of our teams and volunteers who have given their time and talents throughout the past year. As we continue the rebuilding process, we need teams more than ever! Please contact [email protected] for more information.
Thank you for caring!
ONE YEAR AFTER HARVEY: DAY FOUR
CHURCHES REACHING OUT IN THEIR TIME OF NEED
One of the core values of Somebody Cares has always been to empower local churches to reach their communities. This is especially true during times of disaster. It's the local churches that will be there for the long haul, helping to rebuild and restore. Who knows their community better than the church?
Throughout the past year, we have seen the churches of the Texas Gulf Coast rise to the moment in response to the damage caused by Hurricane Harvey. And most of these churches were reaching out in the midst of their own need.
PUTTING OTHERS FIRST
Harvest for Lost Souls in Beaumont has been a facilitator for Somebody Cares Southeast Texas since Hurricane Rita relief in 2005. During Harvey, they sustained water damage to their basement level, which houses kids and youth classes, the nursery, a clothing pantry, and a food pantry. They started having youth classes outside under tents. They also lost their heating and A/C unit. "Our staff never complained," says Pastor Deanna Andrews, "but continued to work and serve in 90 degree heat in our offices to meet the needs of our community." To make matters worse, a 15-passenger van—used for food deliveries and to pick up people for church—was stolen out of the parking lot.
Many of their church families suffered loss of jobs and loved ones. Some relocated.  Many people were having major trouble before the hurricane only to have their circumstances compounded. Pastor Kennedy Andrews hadn't taken a paycheck in months, and now they had 12 people staying in their home.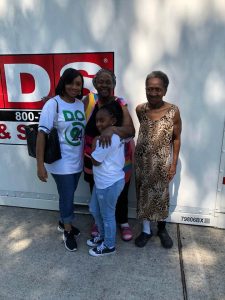 But Pastors Kennedy and Deanna made sure their church kept its focus on the less fortunate in spite of it all. As soon as trucks could reach the area, SCA brought in essential supplies that Harvest used to set up a small warehouse to help 12 area churches. SCA also provided finances and directed 10,000 MyPillows to Harvest, with many of them delivered to nearby Port Arthur to those displaced and in shelters. Sam Pack Ford, the Lindell Foundation, and Somebody Cares partnered to replace the van.
Though their entire congregation was physically, emotionally and mentally exhausted from the upheaval, Harvest was soon able to provide 800 to 1,000 people with water and ready-made meals. They made a priority of checking on and serving the elderly with hot meals, fans, water, love, and prayers. And they provided clothing and shoes for a family to attend the funeral of a loved one lost in the storm.
Pastor Kennedy soon discovered Nome, a severely underserved low income community of about 150-200 people, located about 20 minutes from Beaumont. As he drove in, all of the houses and two churches were completely under water. "My heart dropped," he said. There was no power, no resources, and no hope.
With the help of 25 volunteers from Indiana, the Andrews and their church members began gutting out and rebuilding. "We provided hot meals weekly, labor, love, finances, cleaning supplies, and plenty of prayers! Little by little, we've watch Nome be restored!" One church, Israel Temple, even joined Harvest for combined services until they rebuilt.
A year later, Harvest continues the work of restoration by providing supply kits to those moving back into their homes; personal counseling and weekly small group classes for marriages; back to school uniforms; free haircuts; and a Battlefield for the Mind small group class for those who are battling mentally from their losses.
"We realize that all we've done is because of God and the faithful support of all those He has allowed us to come in contact with," says Pastor Deanna, "especially Somebody Cares America. We are humbled that we get to serve."
THROUGHOUT THE REGION
With other details and circumstances, this scenario of giving out of need was played out over and over again across the Gulf Coast through churches that received financial gifts and supplies from Somebody Cares:
Grace Y Poder reached out to their community, sending scores of volunteers armed with tools, cleaning supplies, and the love of Jesus. "Your generous donation let us buy a forklift, not only to make our job more efficient for our team but for the people we're helping with cleaning supplies, food, baby items, and the Gospel during this time when people have lost their hope," said Pastor Josue De Quesada.
Church Unlimited became our staging area in Rockport, and we were able to bless them with finances and supplies to reach out to their neighbors.
Shelters opened up as soon as Harvey hit, with Somebody Cares helping provide food and other supplies to Calvary Community Church in Northwest Houston and Grace and New Covenant Churches in Humble. Pastor Mike May from Somebody Cares Humble visited some of them and reported: "Many of these shelters opened on faith, some with as little as one 12-pack of bottled water! But they have been overwhelmed but the outpouring of generosity."
Freedom International, Pleasant Hill Church of Deliverance, Church on Fire, and 1 Team 1 Fight partnered together with SCA for community outreach events and have continued with neighborhood initiatives on their own.
Free in Christ Church not only partnered with SCA to reach Harvey survivors, but also to help victims of the Mexico earthquake and Hurricane Maria in Puerto Rico.
By partnering with One Pearland–a coalition of businesses, churches, and ministries—we were able to reach needy neighborhoods, schools, and churches in South Houston.
Ashford Community Church served their neighborhood while also hosting teams for SCA.
And many, many other church partners throughout the region served faithfully and continue serving today!
BLESSED TO BE A BLESSING
SCA also had the opportunity to contribute to churches that badly needed to be rebuilt.
When Pastor Jorge Cardenas went to Church on the Rock see his damaged church for the first time after Harvey hit, it was documented on KSAT TV. He and his wife also lost their home, but their faith sustained them. SCA made financial donations as well as connecting other groups to give toward their needs. We also sent supplies and resources. One year later, they are still trying to get their home fixed, as it suffered much damage. The grateful church invited Doug Stringer to minister there after repairs and remediation were completed.
"We are praying now for Pastor Cardenas and his family to get the additional help and funds to repair their home," Doug said.
In early 2018, Pastor Duane White and the O2 Network of Churches gave a donation specifically for a church that needed significant repair, and Doug Stringer was connected with Bishop Dearman at Holy Temple Deliverance Church.
In April, Doug wrote: "When I first visited with Bishop and First Lady Dearman, the damage due to rain and flooding at Holy Temple Deliverance Church after Hurricane Harvey seemed overwhelming. But thanks to friends like Duane White and the O2 Network of Churches, we were able to provide funds to repair the roof over the sanctuary, as well as the kitchen they use to feed the needy and homeless in the area. The funds also helped with getting the electrical work done in the sanctuary and purchase enough sheet rock to start the remodeling. In fact, after my visit with Bishop today, he was on the way to look at carpet and pews."
On August 15, Jodie Chiricosta and Cassy Smith went to see the progress and delivered another check to help complete the facilities in time for their 36th anniversary and the reopening of their sanctuary.
Bishop Dearman said that, through the work of rebuilding, they have seen their congregation motivated to pray and serve in greater ways. While the devastation of the building "brought everyone together," the answered prayer of donations from the Somebody Cares network catapulted their faith. Click here to see a video of Doug Stringer, Bishop Dearman, and the nearly finished sanctuary!
THE WORK CONTINUES
When Harvey made landfall in Rockport, Texas—west of Houston—Pastor Charles Burchett was already making plans for Harvey's arrival in Southeast Texas by preparing 35,000 pounds of sandbags and coordinating the set-up of shelters at 12 churches in the area. But the flooding of Harvey was so severe when it hit days later that the sandbags did not provide much help, and the shelters were ordered closed when the power went out and evacuees were transported to safer locations.
"The shelter at our church, First Baptist of Kirbyville, was the only one operating with a generator. We quickly transitioned into a resource center."
Pastor Burchett, director of Somebody Cares Jasper/Newton Counties, is no stranger to disaster relief, as he was a major player in Hurricane Rita relief and has served in leadership capacities for restoration projects ever since, including historic flooding that occurred in the area just two years prior to Harvey. Truckloads of resources were soon coming in from SCA and other organizations, with Pastor Burchett personally making sure they got to their proper destinations. When an assessment team from Minnesota contacted SCA about bringing teams to serve, Pastor Burchett connected them with a church in the hard-hit town of Deweyville. They ended up sending teams totaling 109 volunteers from 25 churches throughout the month of March. Other teams have come from Indiana; Seminole, Texas; and other locations. But more teams are needed!
"There are people here living in homes that have mold and still need to be gutted," he says, adding: "We are working on a two-year building project for over 500 homes in Jasper and Newton Counties. SCA is partnering with local churches and SC Jasper/Newton Long Term Recovery Group to repair and rebuild as many of them as possible."
SCA has been blessed recently with a grant to help with some of the costs of the rebuilding project, but Pastor Burchett stresses the ongoing need for teams, building supplies, and resources.
"Most people do not know how great the need still is," he says.
Your continued partnership with us will help the churches of the Gulf Coast with the ongoing job of rebuilding homes and restoring lives.
Thank you for caring!
---