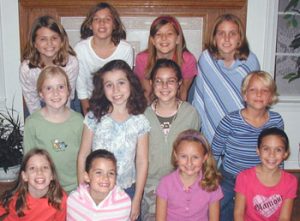 YOUNG CHAMPIONS
Dear Pastor Doug,
For my 10th birthday party, I asked my friends to bring money for the Somebody Cares program instead of giving me gifts. I felt that helping those who were affected by the hurricanes would make my birthday special. My friends were enthusiastic to help others, too. The results were extremely exciting because my 11 friends were able to raise $220! This experience will never be forgotten because of all the fun we
were able to have doing it. I hope that the money we donated will be able to help those in need in a large way. I am glad that I have been able to help others through your ministry, Somebody Cares.
Sincerely,
Alyson
Champions of Compassion:
Top row, from left: Whitnee,
Makenzie, Alyson, Cassie;
middle row: Kate, Rachel,
Katie, Karina;
bottom: Mallory,
Abigail, Meredith,
and Melissa.
Thank you, Alyson and all your friends, for being Champions of Compassion! Through the help of friends like you, we become the net that works. Together, we can make a difference and rescue many lives!
Your gift supports the ongoing work of Somebody Cares locally and globally. Please
make checks payable to Somebody Cares and send them to PO Box 570007, Houston TX 77257. For credit card donations, please call our office, 713-621-1498, or visit our website, www.somebodycares.org. Somebody Cares reserves the right to apply funds toward the greatest need. Your donation is tax deductible.