Tuesday, August 29, 2017
Even as flood waters continued to rise and families of the Somebody Cares staff and network had to be evacuated from their homes, Harvey relief operations were fully underway, helping real people with real needs in real time.
We have prayed for many who have had friends or family missing or awaiting rescue, and thankfully, rejoiced when they were located safe and sound. In East Houston, two of our faithful Somebody Cares servants, Clint and Darlene Burkey, spent the afternoon assisting families and individuals as they were rescued by the Coast Guard–so far, there have been 13,000 rescues in Houston. The Burkeys are part of their local CERT, and Darlene is a chaplain trained in crisis care
"Stay with me, stay with me," one young mother said to Darlene as she came off the Coast Guard boat with her 7-month-old son. "She was obviously shaken but so thankful." After her husband and father-in-law were rescued and joined her, Darlene helped them find transportation to the staging area, where they would be taken to a shelter and receive needed supplies. She also rejoiced and prayed with a family of six who were all rescued together, and comforted a teen-age girl who broke down in tears.
"We saw the church, city government, and every day people working together," Darlene said. But most of all, they saw hearts touched by God.
There are so many stories like this happening every day, and the summary below of relief efforts doesn't begin to tell the story of the thousands of grateful people, hope restored, and prayers answered that have been experienced with each tender act. We hope soon to tell more of these stories so you, our amazing partners, can rejoice with us. In the meantime, we hope these pictures tell some of the story.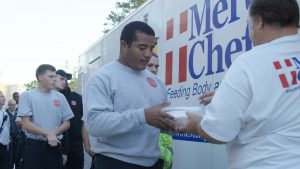 Rockport
Somebody Cares and relief partner Mercy Chefs continue to serve thousands of hot meals to first responders and residents in Rockport at two locations. Rockport was severely damaged as the eye of Harvey swept over it. Tomorrow this will expand to also serve Port Aransas, if the ferry is running so food can be delivered.
Our team is also managing product donation intake for Rockport and distribution out to points of distribution around the area. We have acquired tents to help facilitate the site.
Crisis and trauma chaplaincy are being provided as well.
South Houston
Somebody Cares worked with the One Pearland coalition of churches as shelters had to be evacuated due to rising water and people relocated to Pearland High School. We are working on the provision of hot meals to thousands hemmed in on all sides by flood waters, as well as getting essential supplies to people in need.
Discussions are underway to open a warehouse/distribution center in two locations in the south of Houston so resources can be accessible to those who have lost so much!
A truckload with shelter supplies, hygiene products, and other helpful items will be delivered to the Victoria area and into Pearland tomorrow.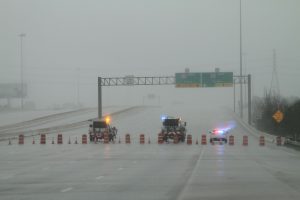 North Houston
2 truckloads of supplies donated by God's Pit Crew were delivered to our network warehouse in New Caney. The loads contained Buckets of Blessing filled with personal hygiene items; as well as water, drinks, MREs, and snacks. As soon as the trucks were unloaded, distribution began to area residents and shelters whose cupboards were bare!
2 additional delivery and distribution sites have been identified and will be open to receive items within a day or two.
Somebody Cares Houston will be stewarding the Lake Houston Area Chamber of Commerce region relief fund.
Somebody Cares Picayune is sending 200 cots to church shelters opening in the north.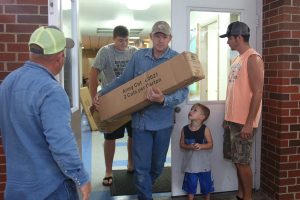 East Texas
Somebody Cares Jasper/Newton Counties helped open seven church shelters as Harvey rains threatened flooding in that region.
2 distribution centers are available to receive and distribute supplies.
We have also been communicating with churches to assess needs in Beaumont and Oak Island, two smaller communities who are also suffering from Harvey's rage.
Throughout Houston
Somebody Cares volunteers were involved around the city assisting in shelters, with rescue operations, checking on shut-ins, and those in communities at risk of flooding.
We also are working on opening several more distribution centers in partnership with churches throughout the region and flood waters recede enough for deliveries to be made.
Many needs throughout the city have been identified from providing dry socks and t-shirts to police, rescue workers, and those rescued from rising waters; to diapers, formula, and baby supplies for the growing population in shelters; to basic food supplies in communities where store shelves are bare; to locating dialysis facilities for evacuees away from their care centers; and so much more!
Updated Needs List
New socks – all sizes
New t-shirts/underwear – all sizes
Disposable diapers
Baby formula
Baby wipes
Other new baby supplies
New stuffed animals to comfort children
Backpacks for personal items
Rubber bins lids for person items
Coolers
New blankets
New pillows
Dog crates for pets in shelters
Cleaning supplies (buckets, mops, bleach, rubber gloves, heavy duty garbage bags, etc.)
If you have a load of new/approved items to deliver, please email [email protected] with details and where you are coming from so we can direct it to the most appropriate location for distribution.
Please continue to pray for all those affected by Hurricane Harvey; those who are responding with such great compassion, and governmental leaders at all levels who are under tremendous stress to serve so many. Please also consider a generous donation to help with immediate needs and the long road to recovery ahead for millions of Texans! Help Now!