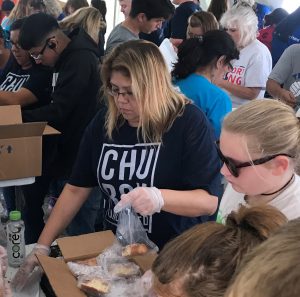 With the help of area churches and 250 volunteers, Somebody Cares let the people of Rockport, Texas, know Somebody STILL Cares, more than two months after Hurricane Harvey brought devastation to their community. On Saturday, November 11, the Somebody Cares Holy Smoke team prepared 3000 hot Thanksgiving meals that were picked up, delivered, or served on-site.
"It was the local church coming together to bless the community," said Somebody Cares field rep Mark Roye. Church Unlimited, which served as the SCA base of operations in Rockport for the first weeks of Harvey relief, hosted the event and provided volunteers; St. Peter Episcopal Church opened up their kitchen for preparation of the side dishes; and Community Bible Church of Highland Park in San Antonio sent a team to help with assembly, serving, and delivery. Kiolbasa Sausage smoked 2000 pounds of ham for the meals and loaned their refrigerated truck, and Hill Country Bakery provided pumpkin spice cake for dessert. 
Though much progress has been made throughout the area, much remains to be done. "There are still people living in tents," said Mark. "Lots of places are still without power, and people are still waiting on insurance. There are so many challenges." 
Somebody Cares continues to partner with local churches and organizations throughout the Gulf as we serve the long-term process of recovery and rebuilding. Please bring joy this holiday season with a special gift now!
 Thank you to Mercury One, local churches, and volunteers for making this event possible, along with Holy Smoke partners Hovey Motor Cars, Lifetime Grills, Ace Smart Restaurant Supply, Kiolbasa Sausage, Hill Country Bakery, Ally Force, and BloodNFire San Antonio & Muncie, Indiana.