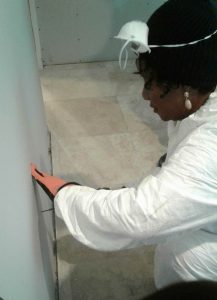 From September 2017 to January 2018, SCA has connected 161 volunteers from Texas, Nevada, Maryland, Louisiana, Florida, Colorado, Ohio, Minnesota, New York, and Virginia. In addition, volunteers from YWAM served at our Houston warehouse, where goods were collected then distributed to staging sites throughout the region. Five churches have served as host sites, at no cost to the volunteers.
Volunteers have come with a variety of skills and experiences, helping with everything from clean out and sanitization to drywall replacement,sorting and distributing supplies, and preparing meals.
When a team of eight skilled construction workers came from Minnesota, we connected them with Pastor Charles Burchett, director of Somebody Cares Jasper/Newton Counties in Kirbyville, who was able to send them to several sites. They helped with the house of a woman who was having a really tough year. While she was in Houston for surgery, they sheet-rocked her house and fixed some electric. They were also able to work on a house in Orange, do some light electrical work at a home in Deweyville, complete some repairs at First Baptist of Kirbyville, and make multiple connections to bring teams back in 2018.
Another team of 12 skilled volunteers came from Integrity Roofing in Colorado, working on mediation and drywall for multiple neighborhoods. "They also visited neighborhoods, going door to door with gift cards, where they prayed for and encouraged countless survivors impacted by flooding during the two weeks they were here," said SCA Volunteer Coordinator Cassy Smith.
Some teams have been unskilled but willing to help however they could. Edith Gabriel-Moon is a minister from Maryland who flew to Houston with 15 ladies, who quickly learned how to paint and do drywall with the help of skilled workers out of Ashford Community Church.
"They had a blast!" Cassy says. "They would call me or meet up with me almost every evening during their six-day trip so I hear about projects they were working on or the people they met during their stay. I don't think they met a single person they didn't pray for and share their faith with!"
Teams are still coming in to help clean out homes and do repairs, while SCA continues providing building supplies, such as two truckloads of tile, to Southeast Texas for the rebuilding phase.
For information on volunteering or sending a team, call 713-621-1498 or email [email protected].