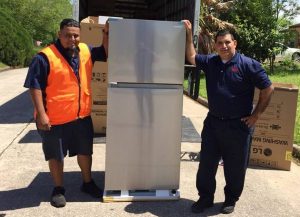 Thanks to a Somebody Cares America partnership with Conn's Furniture and Appliances, we were able to surprise and bless Zulma, a widow and mother of two teenagers, on March 29 with a new washer, dryer, and refrigerator.
Zulma lost everything in her home when it was flooded with over four feet of water from Harvey. Ashford Community Church, one of our partner churches, began helping her with remediation and repairs after she was unable to get assistance from FEMA.
God has not forgotten me." "And He never will," Lisa replied, adding later: "These are priceless memories and reminders of real needs in the community still today, seven months after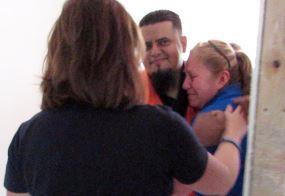 Hurricane Harvey." (Click here for video of Zulma receiving her appliances.)
The next day in Beaumont, Pastors Kennedy and Deanna Andrews from Harvest of Lost Souls, our distribution center for Somebody Cares Southeast Texas, had the joy of blessing Mrs. Loretta, a 71-year-old widow who cares for a disabled relative. They heard about Mrs. Loretta through a local city councilwoman.
"After losing everything due to Harvey, on Good Friday Mrs. Loretta received a brand new washer, dryer, mattress set, stove, and stainless steel refrigerator!" said Pastor Deanna. "To God be the glory!"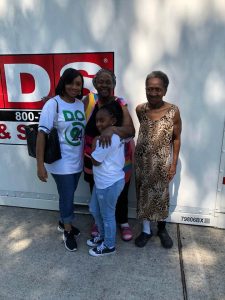 The 11a.m. delivery came just before the kick-off of the church's eighth annual Serve 24 outreach, where members serve the community for a continuous 24 hours by packing and distributing food items, cleaning up city blocks, doing random acts of kindness, and hosting a block party with free food and games forthe kids. This year, two other churches joined them.
"We are amazed and blessed to be chosen as a 'distribution center' of God's love," said Pastor Deanna. "Doug, thanks for rescuing lives and continuing to be the difference." (Click here for KFDM News story)
Zulma and Mrs. Loretta were just two of several families we were able to help Easter weekend in Houston and Beaumont. Special thanks to Conn's; our partner churches; volunteer coordinator, Cassy Smith; Leo Lopez from Second Mile Media; and all of our volunteers and supporters.
"I am filled with gratitude for all those who have and continue to link arm in arm to bring a tangible expression of God's love in the aftermath of hurricanes like Harvey, Maria, and others, as well as earthquakes and other crises," said Doug Stringer. "The media attention may have moved on, yet there are still those serving to bring ongoing hope and help in Houston, the Gulf, Puerto Rico, and beyond."
Your generous gift today will help us continue blessing those truly in need who have lost so much. Thank you for caring!