03/31/10 – There are hundreds of thousands of orphans in Haiti. Their stories are heart wrenching. But in the midst of suffering, even they are beginning to find hope.
Somebody Cares is caring for the fatherless in Haiti. We have been providing baby formula, food, water, protein powder, vitamins, tarps and toys to children's homes; more is on the way. We also enabled the Faith, Hope, Live Infant Rescue home to get a new full house generator to replace a failing small one. This will keep medicines, formula and children cool during the long hot summer and fall months!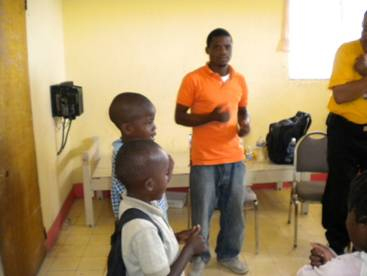 Rodney is being ministered to by two of Doug Stringer's books.
In addition to very tangible humanitarian aid, Somebody Cares is providing God's message of hope through resources to pastors as well as quake survivors. This includes Creole versions of When Your Whole World Changes, which was donated by the International Bible Society; The Survivors (a book for children); as well as several books by Doug Stringer like Who's Your Daddy Now? and Hope for a Fatherless Generation.
These books are ministering deeply to those who are grown up fatherless in Haiti, like Rodney.
Rodney is a bright young man who wants to be a minister. He is attending a vocational school to learn job skills to support his pursuit of being a full time minister. While in school he works as a translator, when possible, as he has an outgoing personality and speaks great English.
In fact, Rodney served as a translator at a Trauma Counseling seminar recently hosted by Somebody Cares partner, Chaplain Edward Smith of Victim Relief Ministry in Haiti.
As Rodney was working in a counseling session at an orphanage, Edward noticed him struggling with his emotions. When they had a chance to talk privately, Rodney shared his story.
Raised in an orphanage, Rodney had no real parents though he visited family relatives and knew his sister. When the earthquake hit his sister was trapped in the ruins of a building. When Rodney and his relatives found her, she was alive but stuck in the debris. They were unable to get her out.
For three days they talked to her and were able to get her food and water. On the third day she passed away due to her injuries and she is still entombed in the ruins along with thousands of other bodies throughout Haiti.
Edward spent time with Rodney over the next several days talking on deep spiritual issues. Rodney loves God but needed reassurance. He enjoyed talking about Christ and he especially loved serving alongside other believers as their served his people.
One day Edward gave Rodney two of Doug Stringer's books, Who's Your Daddy Now? and Hope for a Fatherless Generation. Edward recounts what happened.
"In reading the first few pages of each book his eyes filled with tears and as he clutched the books to his chest he said- 'You do not know how much these books are speaking to me!'
We talked about the personal relationship we have with God our Father and that we are brothers in the family of God. He hugged me and after praying he departed thanking me again for the books and for being able to serve with us.
I hope to work with him again one day soon in Haiti where hundreds of thousands of orphans need to know there is hope for a fatherless generation."
Our faithful partners enable us to continue offering hope and tangible help to the fatherless and hurting in Haiti. Thank you for your prayers and support!
Several containers of food and supplies are in process for shipping, but funding is needed for transportation. Join us in giving hope to Haiti's fatherless generation; donate towards the container shipment today!
Victim Relief Ministry is a partner of Somebody Cares America and International. To learn more about their work visit www.victimrelief.org.