Join us for this night of worship and ministry, and invite others you know who were impacted by Harvey!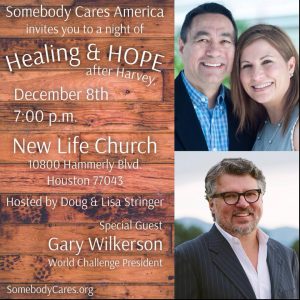 So many people in our city and surrounding areas were drastically impacted by Hurricane Harvey. Join us as we share hope beyond the tragedy. Hosted by Doug and Lisa Stringer, our special guest minister will be Gary Wilkerson, President of World Challenge and son of the late David Wilkerson. Gary is passionate about equipping the saints to become people of action in their faith. His heart is to share the Word, bring fresh life and vision, and let leaders know they are supported. Gary has traveled to over 60 countries bringing renewed passion to hundreds of thousands.
Friday, December 8, 7pm at New Life Church, 10800 Hammerly Blvd, Houston 77043. Somebody Still Cares, Houston!