August, 29, 2012 — After just recovering from a devastating flood this July, Somebody Cares Aberdeen was hit again with flooding. What could have taken months or quite simply put the ministry under, has turned around!  As Brian Taylor reported to Somebody Cares staff member, Susie Wolf at our Head Quarters in Houston, Texas, "What would have taken weeks to months, has taken 2 days! Perhaps this is partly because the grounds used to be a nursery and the water ran off quickly but it's simply amazing."
All of the carpet will have to be replaced throughout the Somebody Cares Retail Outlet and Centre. Most of the revenue generated for the ministry occurs through that Centre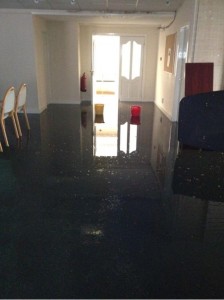 and it was feared that the loss would be devastating to operations.
Originally it was thought that all of the plaster wall (sheet-rock) was ruined and that all the electrical would have to be replaced. To their utter amazement, only part of the plaster wall will have to replaced and all of the electrical is fine!
Taylor shared, "What we thought would cost between $80,000 – $100,000 US will cost between $15,000-$20,000 US. It's incredible!   "Half of the shop is reopened and once the other repairs are made, we'll be fully operational. Our newly formed praise band has only met twice and we had an awesome time of praise just tonight."
When Susie asked, to what they attribute this amazing recovery, Brian simply stated, "God; it's astonishing."
Brian and wife Jenny faithfully serve the homeless and those in desperate need and are known for their tireless work in Aberdeen. In fact they planned to start a new citywide initiative this month publicized as "Aberdeen – the City that Cares" food appeal allowing for an even greater impact.
You may tour the facility via the attached link of a news story on their first Summer flood in July. Computers, furnishings and goods were damaged in the earlier flood. We rejoice with Somebody Cares Aberdeen and are committed to helping in whatever way possible in their recovery efforts.
http://local.stv.tv/aberdeen/news/111645-aberdeen-charity-feels-the-impact-of-serious-summer-floods/
http://www.somebodycaresuk.org/