When Hurricane Rita ripped through Beaumont, TX in 2005, the massive flooding and destruction devastated Pastor Kennedy Andrews and his entire community. They did not know where to turn or what to do. When Somebody Cares arrived as part of our disaster response to that storm, Pastor Andrews became a key partner in the area as we helped hundreds of families with critical supplies and long-term recovery assistance.
Seven years later Pastor Kennedy was prompted to pay the kindness forward. He said, "When Hurricane Rita hit, Somebody Cares showed up and helped us out. Because of that and the relationship built with Doug, I felt to do something [for the Hurricane Isaac victims]."
Pastor Kennedy is the pastor of a small church in Beaumont made up of people "nobody else wants", as he describes it. When Hurricane Isaac hit on the eve of August 29th, Pastor Kennedy felt God tugging at his heart to go help the people affected by Hurricane Isaac.  Soon thereafter he received a call from a pastor in Algiers, Louisiana saying, "We need you". Pastor Kennedy's church was going through some hard times financially, but the Holy Spirit "kept texting". So he got some men together and they spread out around Beaumont to collect supplies. Not much came in but Pastor Andrews was determined to answer the call for help, so he told the men, "Let's just get the supplies we have so far together, and I'm just going to go in faith". Once the truck was loaded, he headed for Algiers.
The damage and need was more than he had imagined. When he arrived at the small Algiers church located on the West Bank of the Mississippi, he realized it looked "worse than ours did after Rita". He quickly distributed the supplies he brought, and could see the gratitude and relief on all the faces. The church had about 60 members, and the power was off. Seeing their circumstances, Pastor Andrews decided to stay on as long as he was needed.
He soon found out that the area had been without power for over a week and many more people were in need of food and basic necessities. So Pastor Andrews took all the money he had, $800, and purchased food to provide meals for 400-500 people that day. He arranged for tents to be set up and a bounce house was located for the children.  Most of all he knew the people needed encouragement and hope so he organized a church service and shared a simple but powerful message that in a time of crisis we need to sacrifice. The people in that Algiers community were so touched that they decided to help others affected by the storm!  They gathered their remaining supplies and passed them on to others in need. From there on, "things just started happening".
Pastor Andrews stayed in the area for 4 days as the sole relief worker in a community of 2,000! Pastor Kennedy says, "I just came to do what I feel called to do, and it was just basic, coming to say 'We love you'". The connections he made during that time became the Somebody Cares relief partners for our long term Isaac recovery efforts!
Pastor Andrew's willingness to help grew exponentially as SCA continued to provide aid to the thousands more families left with flood-damaged homes and no insurance. Pastor Kennedy paved the way for teams and volunteers – including those from Somebody Cares and its partners- to come in and provide help. Although just one man, he was able to jump-start crisis response to many hurricane victims; all this because Somebody Cares chose to reach out to him years ago. What a great example of the "net that works"!
We honor Compassionate Servants like Pastor Kennedy, and like you who have supported us through finances, resources, time and prayers. We know it is the faithfulness of men and women like you that make such an impact for the Kingdom of God!  Together we form the 'net that works' and our efforts are multiplied to reach more who are in crisis and in need with Christ's love! Thank you.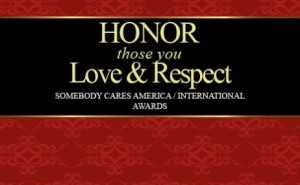 Show your appreciation for the godly people in your life this holiday season. Find out how you can take part in honoring those you love and respect

here

!