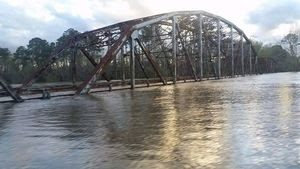 Our Somebody Cares Newton/Jasper Counties chapter is playing a key role in relief work from the devastating floods resulting from torrential rainfall that began last week. With the Sabine River reaching record heights, a mandatory evacuation for everyone living along the river below Bon Wier TX became effective at 7am on Saturday, March 12.
Somebody Cares has opened a shelter at First Baptist Church of Kirbyville. Charles Burchett, chapter director and pastor of the church, reports:
With rain falling at over an inch per hour on Wednesday, March 9, at the request of the Chief of the Kirbyville Volunteer Fire Department, we opened our shelter Wednesday evening. Water rescues began late Wednesday night and early Thursday morning with evacuees being brought to our shelter.
We provided for 43 people by 2:00 P.M. on Thursday and are now caring for
75 people. Some government officials think this may be a 10 to 15 day flood event.
One of the families in the shelter lost everything except for the clothes they are wearing, as did many other families in the community. Others will be returning to homes with extreme damage from water and mud. Somebody Cares Jasper/Newton will begin the initial processes of scheduling and coordinating mud-out teams beginning this week.
Please pray for the residents of these Sabine River communities, along with all of the first responders. Immediate needs include funds for food, cots, and other relief supplies, as well as gift cards to empower the local church to meet the needs of the community as they rebuild their lives.