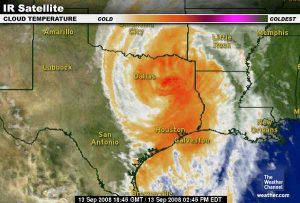 The official start of the 2016 Hurricane Season is June 1st. While we pray for a calm summer, God's ways are not always our ways. So, if you live within several hundred miles of a coastline, or for that matter anywhere, we encourage you to take steps now to prepare yourself and family in the event a hurricane makes landfall or another disaster occurs near you. To help you do that, we have included ideas and tips so your family is cared for, and you are ready to reach out to others with the love of Jesus in their time of need.
Step 1: Know your risks: Check tidal and flood maps of your community so you know if your property is likely to flood. Also assess trees and nearby structures to determine if they present a potential threat to your home in the event of high winds. Even if you are in a low risk area, it is not a guarantee that a hurricane will not impact your home, but at least you can decide if you should evacuate or shelter in place if a hurricane is headed towards your community.
Step 2: Make your evacuation, or shelter in place, plan: Know the evacuation routes and contra-flow traffic plans for your community. If you are in a low lying or high-risk area, determine now where you will go if an evacuation is needed. Make sure the whole family knows the plan. If you are in a low-risk area, it may be safer for you to shelter in place. You may also want to invite family or friends that live in high-risk areas to shelter in place with you.
Step 3: Plan and pack now:
Evacuation Prep: If you are in an area where evacuation is necessary, pre-pack your Grab and Go bags now and keep them in a place that is accessible. Click here for help in assembling your Grab and Go bags. If you have pets remember to pack items they will need as well. If you will be going to a community shelter with pets, select one that accommodates pets and make sure you have a crate or appropriate mobile home for them.
Shelter in Place Prep: If you plan to shelter in place, it is still good to assemble a Grab and Go bag, as you may need many of the same supplies. You should also have Home Emergency Supplies.
Make sure to have a printed Bible on hand too in case you lose power on your mobile devices.  It may also be helpful to have a few booklets with you to share Christ with others during a crisis.  Following are a couple for you to consider: Hope in Crisis,and Who Was Jesus?
Securing Your Home: You should also procure supplies to secure your home, like plywood for windows; extra gasoline for generators; tarps in case of roof leaks; chainsaws to remove downed treelimbs etc…
Step 4: Check your insurance: Because of the increase of catastrophic disasters, many insurance policies have "natural hazard deductibles" as well as other exclusions of which you may not be aware. If you do not have a separate flood insurance policy, prayerfully consider adding that as well. We have seen far too many families unprepared for unexpected flooding; if the water rises and you do not have flood insurance the result can be very costly.
Step 5: Prepare to help neighbors: Disasters and other life challenges provide Believers in Jesus with a wonderful opportunity to be a living testimony of His love to our neighbors. Get to know your neighbors, especially if you have elderly, disabled, or single parent families near you, so you can anticipate how best to assist them in the event of an evacuation or disaster. Ask if they are prepared and have a plan.  If not, offer to help them get prepared too!
And of course, pray at all times! The Lord will give you wisdom before, during and after any disaster so you can be His witness wherever He places you!
Click here to find additional disaster preparedness resources.