What a loss. Amy's husband and the father of her six children passed away the Thursday before Christmas. Imagine a 31 year old mom, trying to care for six young children when their sole provider is no longer there. It is heart wrenching.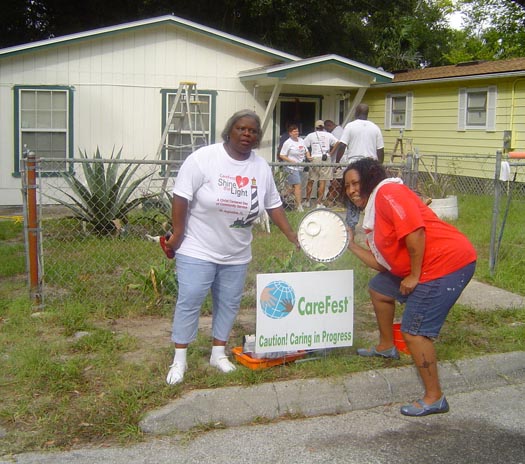 Volunteers in St Augustine help families like Amy's all year long.
Good News Church in St. Augustine heard about the family's plight and called Somebody Cares St Augustine right after the New Year.
John Clifton, Director of SCStA said, "Of course we went to see what we could do to help. We found that a great deal could be done to help Amy and to improve living conditions for the children."
The first and most obvious need was the ability to secure the house at night — a good shove on the front or backdoor would open them up. The home had been broken into several times, and SCStA was concerned for the safety of Amy and the children. They provided 2 new pre-hung doors and workers from Anastasia Baptist, Coquina Community Church and Homeport, got the doors installed on January 4th.
Since then SCStA volunteers from Good News and Crescent Beach Baptist have had a clean up day, repaired a roof leak and replaced some broken windows. The Somebody Cares coalition of churches in St. Augustine is committed to on-going help for Amy and her children, in any way they can.
Amy knows that Jesus sent her this help. And it is a praise for the community to see unity in action among the body of Christ!
There is still much that needs to be done for Amy and families like hers around the country. Please join us as we reach our neighbors in need by donating on-line today!