When going into areas affected by crises, we often find that we are meeting needs that run much deeper than visible to the naked eye. Salyersville, Kentucky was no different…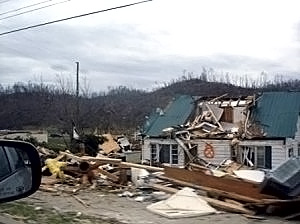 When the EF3 tornado tore through Kentucky on Friday, March 2, it caused extensive water damage to Pam and Harold Smith's house through their damaged roof. They did not know where to turn, but Terry and Vickie Gaskins, directors of Rise to the Time and Somebody Cares Mobile Outreach, were in Salyersville, KY to help with tornado cleanup. They received a call from the Smiths and went by for an on-site inspection so repair teams could be deployed with the right materials. They were also equipped with listening ears and a soft heart to minister God's love to the many who lost homes, possessions and hope to the twister.
When Vickie Gaskins arrived at the Smiths' home, she knew it was for more than just a damage assessment. The Smiths had a storm story and were anxious to share it.  Pam shared that two of their children were out and about during the storm.  One hid in the cooler at the local McDonald's where he worked.
Soon Pam also began to share about a deeper need and pain. She and Harold were raising three of their grandchildren because one of their sons and his wife had passed away. The mother was killed in a car accident, but they believe their son was murdered. Pam's pain was obvious and she cried and cried as Vickie prayed for this family to find the Comforter who bears all our grief and sorrows.
Despite rain delays, a repair team from The Gathering,  a church in Indiana who partnered with SC Mobile, was able to fix the roof damage for this family. Before parting, they prayed over this family again and encouraged them in the Lord.
People like Pam and Harold are what SC Mobile Outreach is all about! The Gaskins go into an area, make initial contact with the necessary churches, SC partners, officials, and community leaders. They work to get a master list of residents with damage and then set up shop so assessments can be done and repair teams sent out to fix home and ministry to families who need to know Somebody Cares.
In Kentucky, accompanied by local pastors and leaders, two of the first teams hosted by the SC Mobile outreach were long time ministry partners Victim Relief Ministries of Texas and Denver Church in the City.  Both teams provided aid to the local government AND prayed and ministered if the door was open….and open it was! Many received not only ministry but also "Who Was Jesus?" or the "Survivor" booklet for children furnished by Somebody Cares America.
*names changed
Somebody Cares mobilizes response to disasters in such a way that the people most in need receive help as quickly as possible. Now with the valuable addition of the SC Mobile Outreach Center, we can also coordinate aid on site more effectively!
SC Mobile Outreach is headed to Louisiana to coordinate on-going relief efforts in the wake of destruction by Hurrican Isaac. Your donation today will help aid families affected by Hurricane Isaac, and other crises. HELP NOW!