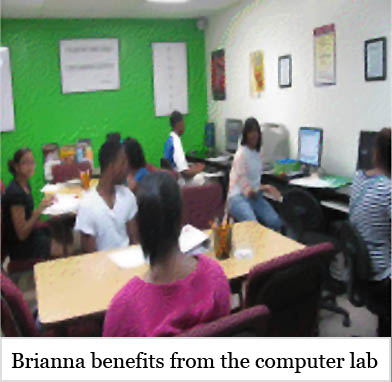 Brianna has upped her average in French class from 56 to 81. Justice was failing three classes, but now he is passing all of his classes. Adrien is learning sign language.
These students are among a number of young people who participate in the Fear of the Lord After School Tutorial program at Together We Stand Church in Missouri City TX. Somebody Cares donated computers to the church to help Pastors Allen and Cheryl Rice launch the program in January of this year. But any of these students will tell you they get much more out of the program than tutoring and computer skills.
Many of the tutors, including the pastors' daughter Alexis Rice, are high school students who already have a passion to help others. "My tutors are not just teaching me about my classes," Justice says. "Because they are also in school, they can relate to what I am going through. They are helping me by telling me how to talk to my teachers about my problems."  Not only have his grades improved, Justice says he even enjoys going to school now. His teachers are excited to help him because they know he is making an extra effort by attending the after school program. "Sometimes I am actually ahead of the rest of the class!"
When Brianna began coming to the program, her French scored had dropped because of a failing test score of 31. She now uses a translator via internet on one of the computers furnished by Somebody Cares, which helps her memorize the words. When her teachers heard she had taken the initiative to be part of the program, they let her re-take the test. "This time, I scored  98!" she proudly proclaims with a big smile, and adds, "Momma is so proud of the improvements I have made."
Like Justice, Brianna has also discovered many more benefits to the program besides academic gains. Pastor Cheryl and Dr. Dennise Bates, who oversee the program, often call and email her to check up on how she is doing. Brianna says they let her know they care about her.
Caring, however, is nothing new for the leadership and members of Together We Stand. Pastor Allen Rice has been a long time member of the Somebody Cares Houston advisory board and his church has been showing the love of Christ to their community for many years. It's not just the children and young people they want to strengthen and encourage-it's entire families!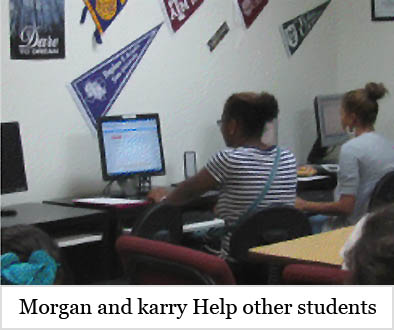 Pastor Rice, in response to a mandate God has given him to reach the men of the community, is devoting this year to teaching, encouraging, and equipping them in their role as fathers. Recently, one of our Somebody Cares partners furnished the after school program with 150 Who's Your Daddy Now? books and study guides to be used not only for the students but also for the fathers. And when children in the program don't have fathers, the church and the after school volunteers step in to be a tangible expression of the heavenly Father's love. As Justice says, "They really care about ME. And they are always so happy!"
The program has plans now to expand in the coming academic year so they can minister to even more students who are hungry to learn, grow, and succeed. Thanks to your generous partnership, young people in Missouri City will continue every day learning the most important lesson of all-Somebody Cares, and His name is Jesus. Thank you for caring!