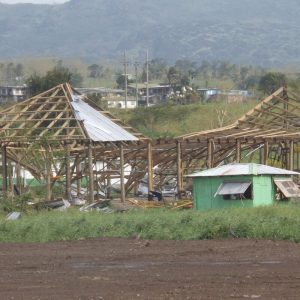 Cyclone Winston devastated large parts of the island nation of Fiji on February 20,  leaving thousands homeless and many dead.  Rev. Kurulo, director of Somebody Cares Fiji shares this heartbreaking story:
"Ten-year-old Salacieli Serevi of Qelekuro village in Tailevu, on the eastern part of Fiji lost her mum that fateful night. She was told to hold on to her 12 months old baby sister inside the nearby evacuation centre whilst her mum waded through waist deep flood waters in the dark to fetch them some extra warm clothes. She never came back…She was found, a few hours later, with a knapsack of clothes still on her back under a roof that had flown across her path in the dark night. It was a night of terror mixed with cruelty and fear for little Sala. She and her eight other siblings are now left motherless."
Many other families have similar stories. That is why it is so crucial for Somebody Cares Fiji to reach out with the tangible love of Christ. Rev. Kurolo also reports:
"We have mobilized teams throughout Fiji who are on the ground accessing the immediate, short term and long term need of those being badly affected by the cyclone. We also have teams processing, sourcing, managing, packaging, transporting and delivering food packs, water, tents, survival kits, etc., to first serve the immediate needs of the cyclone victims.
The first load of 7 tonnes of food ration has been distributed to villages in the Central and Eastern parts of Fiji

within 24 hours

of our initial survey.
We have opened distribution centres in the northern town of Labasa to distribute food and relief supplies to badly stricken Northern provinces.  Food rations are being prepared for delivery to the Western provinces.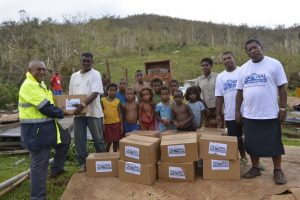 We are working very closely with the Government of Fiji and they are very thankful for our courageous quick response in leading the chain of service delivery in times of unexpected natural disasters.
Every prayer, help, or act of kindness, whether big or small, in kind or cash, will be highly appreciated."
Somebody Cares Fiji teams are working hard to bring relief and help families recover, but more support is desperately needed! Please consider a generous gift to bring the tangible love of Christ to those, like 10 year old Salacieli, who have suffered great loss!
Your financial gift will help us purchase food, shelter supplies, medicine, and other life-saving essentials.  Please give now!