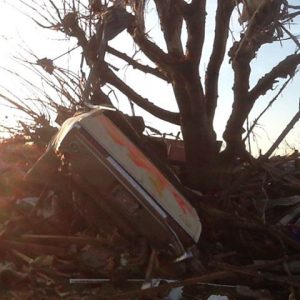 While phones kept ringing and the bustle of an office in disaster response mode continued in the background, one of our staff members Susie Wolf picked up a call. On the other side was Taylor*, a long-time friend and partner of Turning Point Ministries and Somebody Cares. He started sharing with Susie that he and his wife's extended family all come from the Moore, Oklahoma area. They received word that a family member, Gerika, had been badly hit by the tornadoes that devastated Oklahoma on Sunday and Monday. Could Somebody Cares help them in any way?
It wasn't until the very last day before Doug and team were scheduled to leave Oklahoma -after doing on-site needs assessments and establishing a networked response to any overlooked communities- that through a moment of divine providence, that they were able to connect with Gerika. On Doug's last day in the area, his team did a final drive through the community to catch any missing details.  One property they passed had debris covering everything, and in the front yard, a mangled car stuck in a tree. Doug snapped a picture and posted it on social media. Soon he received at text that none other than Gerika had responded to his post, saying, "That's my sister's house!" While snapping a picture of one of over 1200 destroyed homes in a neighborhood, Somebody Cares found the needle in a haystack and was able to connect with Gerika.

When Doug spoke with Gerika he asked, "How have you and the community been affected by the tornado?". Out came her story. The day the F5 tornado hit over 17 miles of land, it also hit Agapeland Learning Center -a day care center- leaving it totally destroyed and virtually unrecognizable. Erica used to work at the day care. The tornadoes that hit Oklahoma also completely destroyed Gerika's sister's house. Yet even in the midst of her own loss, Gerika wants to help respond to the needs of her neighbors by opening a temporary day-care to help families who are busy cleaning up debris, finding alternate housing and getting back to work. Gerika told Doug, "Many people need to get to work, and simply can't because they have kids to take care of. I want to help alleviate that burden and help our community get on the road to recovery." When contacting other agencies, none had even thought of opening a day-care.
Somebody Cares is in touch with local partners to help find Gerika a suitable location in which to run a day-care, and to make sure she and her family are receive the help they need.  Even in the midst of chaos, Somebody Cares is responding one life, one connection at a time; making sure the Net Works to respond to oft overlooked yet real needs!