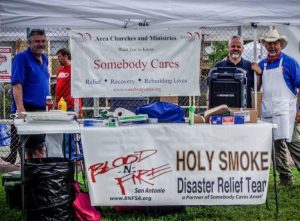 Somebody Cares representative, Mark Roye, has witnessed a new flood in Louisiana, a flood of love!
Because of the generosity of partners like Mercury One, Blood-n-Fire San Antonio and Muncie, Daily Bread Ministries, local churches and caring individuals, Somebody Cares has been providing tangible expressions of God's love through Louisiana's flooded communities!
Here are a few examples:
Tens of thousands of nutritious, fresh cooked meals have been prepared and served to flood victims and first responders throughout Baton Rouge, St. Amant, and the surrounding communities.
Assistance is being given to deputies and public servants in Lafayette Parish who continue to serve their communities even though their homes were flooded.
Tables and shelving have been provided to equip the Healing Place Church distribution center in Denham Springs to more effectively reach that devastated community.
Over 1000 new backpacks are on their way for children affected by the flooding so they are ready when schools are able to open.
Drinking water, hygiene items and more are being assembled for transport to flooded communities.
Dehumidifiers are enroute to help dry out homes so families can return as soon as possible!
Somebody Cares is also working with local churches to identify where volunteer teams. Once details are available we will communicate that for those who want to help on-site.
The relief and recovery efforts will last months; must prayer and support is needed. Will you partner with us to continue flooding Louisiana with God's love? Yes I will!