Residents throughout Texas and other areas hit by Winter Storm Uri will be getting relief as temperatures rise over the weekend, but with the thaw will come new problems and challenges.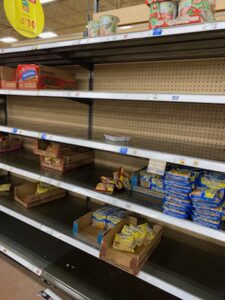 Already, Somebody Cares is coming alongside churches and individuals with water damage from bursting pipes, an issue that will worsen as pipes thaw. Until supply chains catch up with demand, grocery store shelves are bare, water is in short supply, and plumbing repair supplies are also scarce.
"From Day 1, we have been connecting needs with resources," says Doug Stringer. "People need to know they have someone to turn to."
Local businesses that are connected with Somebody Cares have been offering practical assistance such as helping neighbors with water shut-offs and instructions on operating gas fireplaces properly. Some of our partner churches opened their doors as warming centers. Businesses and churches alike have offered warehouse space for any material donations that need to be distributed.
Earlier this week, friends at the Austin Disaster Relief Network contacted Doug about some needs in the Greater Houston area, including a 93-year-old woman with busted water pipes. Through a connection with the local fire chief, staff member Cassy Smith was able to facilitate the deployment of a team to help her.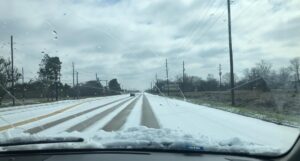 In addition to needs in the ministry's base of operations in Houston, SCA is also prepared to mobilize help for surrounding cities and states by equipping local churches that are available to help and assisting churches that are in need of help. In fact, the National Operational Hydrologic Remote Sensing Center reported on February 16 that 73.2% of the continental U.S. had snow cover, the highest since their database began in 2003.
Mark Roye from Somebody Cares San Antonio reported: "We fed around 600 meals to shut-ins today with the help of Kiobassa Meats. Tomorrow we will be feeding 500 homeless at Christian Ministry Alliance and Church Under the Bridge."
Another partner, Mission Harvest America, is working with a refugee ministry in the Dallas-Fort Worth area and Denton County Emergency Services. "There are needs for basics such as water, milk, eggs, bread, and meats," they told us.
"Everything we have been able to do is because of our existing relationships," Doug explains. "That's why it's so important to be connected and prepared before a disaster happens." SCA will be putting a special emphasis in the coming months on preparedness training for churches and individuals, using resources such as our Disaster Preparedness and Response Manual for churches; Preparedness Peace for individuals and families; and Doug's newest book, Mending the Net–a timely message illustrating the importance and impact of the body of Christ laboring together–which is available on our website, at Amazon.com, or wherever Christian books are sold.
In the midst of this winter weather crisis compounded by economic challenges related to COVID, a generous foundation has offered an anonymous $5,000 matching grant, along with a $10,000 gift from another ministry partner. Your contribution to help match (or even double!) these timely donations will leverage these generous gifts so we can meet urgent as well as ongoing needs! 
In addition to finances, some of our local partners are requesting new blankets, jackets, winter gloves, winter hats, socks, plumbing supplies, along with non-perishable food and water. If you are able to contribute items in bulk, contact our office at 713.621.1498 or email [email protected].
Please keep our region and other regions affected by the storm in your prayers. If you have prayer needs you can call or text our 24/7 Prayer Line at 855-459-2273 or please reply to this email. 
Thank you for caring!