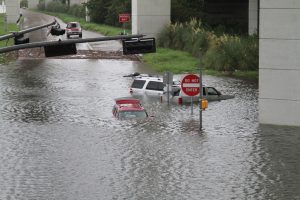 As the rain continues to pelt Houston and the surround area causing increasing flooding and misery, Somebody Cares is fully engaged in responding to the needs of those impacted by Harvey.
One of our teams, along with ministry partner Mercy Chefs, began serving hot meals in Rockport, TX – which was ground zero when Harvey stormed ashore.  In addition to serving meals to first responders from our mobile kitchen station, chefs also prepared meals using the county jail to serve officials working round the clock in the municipal buildings coordinating relief efforts.
In Pearland and Friendswood, on the south side of Houston, several churches have been identified as staging areas for relief supplies and housing evacuees.
We continue to connect people and communities needing help with rescue calls with trained teams who can assist emergency management teams in their efforts.
Assessments throughout flooded communities are also continuing as the disaster area continues to grow due to more and more rain.
Our team has also been fielding calls from new shelters in churches that have opened today to house some of the thousands of people that got mandatory evacuation notices today due to overflowing reservoirs and dams.  These new shelters have urgent needs for items listed below. In the north east area and Humble area, Grace Church Humble and New Covenant Church are now shelters. At least 6 buses of evacuees were brought to Grace Humble. The pastor texted us and mentioned they need Cots, Air mattresses, Dog and Cat cages because people obviously didn't want to leave their pets. Other Churches in and around Houston are contacting us to offer their facilities if needed after the water recedes.
We are having ongoing calls and conference calls with our Somebody Cares reps and with our partner relief organizations. Trucks are waiting to get into Houston, Hot Meal Kitchen from Mercy Chefs and others waiting to get in also once the road are passable.
We have also served as a communication hub for pastors and agencies throughout the city coordinating relief efforts and trying to direct aid when needs are identified.
In addition, supplies are being mobilized around the country so that as soon as roads are open, more relief can quickly get to the people who desperately need the help!
IMMEDIATE NEEDS AT AREA SHELTERS  (needs vary from shelter to shelter but we have received many requests for these items).
Cots
Air mattresses
Hygiene items
Food
Baby items like diapers, etc.
Water and drinks
Snacks
If you are in Houston and have some of these items that are you willing and are safely able to deliver to a shelter, please call the Somebody Cares office at 713-621-1498 so we can direct you to a shelter that needs the items.  Otherwise, please consider making a donation to Somebody Cares so we can purchase these and other needed supplies to help evacuees!
Most of all please pray that the rain abates and the flood waters recede!