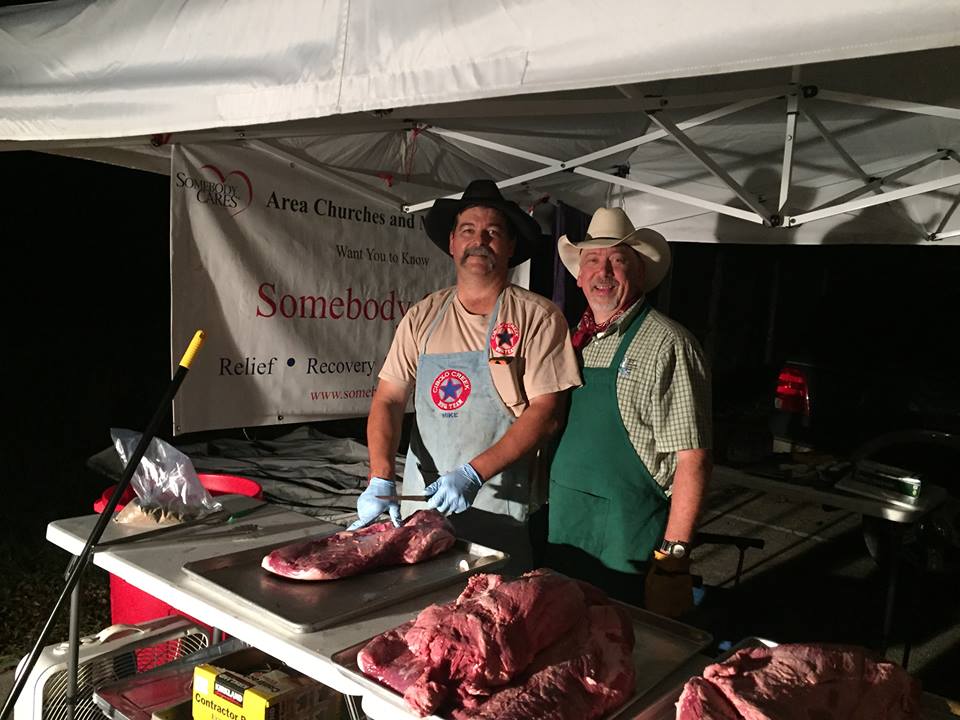 After setting up operations a week ago, our Somebody Cares America team has partnered with BloodNFIre  San Antonio, Mercy Chefs, and Good Life Barbeque to serve over 15,000 hot meals to volunteers and residents of Wimberly TX. The SCA team has been working at Cypress Creek Church as they serve the community. Key donations have been provided by HEB Supermarkets, Kiolbassa Sausage, and Mercury One.
"We've had some great teams here," said SCA field rep Mark Roye. "We're extremely grateful for all those who partnered with us so we can partner with local people and support them through this difficult time."
The church site has become a base camp for distribution of food and cleaning supplies as well as hundreds of volunteers, who are primarily working on removing mud and water out of houses. Cypress Creek members are delivering the meals prepared by our Somebody Cares partners directly to the work-site so volunteers can continue working on this critical, time-sensitive task. Volunteers have come from as far away as Virginia and Michigan.
"We're here not only to serve meals, but to empower the local church and help them build relational equity," Mark says. "We want to help them be a source of compassion so they can show the love of Christ to the people even after we're gone."
The church has also distributed gift cards and teddy bears donated by Somebody Cares.
Meanwhile, Somebody Cares Houston is partnering with Willow Meadow CERT for flood relief efforts in the city's Meyerland area, mobilizing volunteers to assist hundreds of families in that area that were affected by the floods.  Volunteers are helping sanitize household items; transport people who lost cars; deliver donated meals to residents; and more.
SCA has also discovered some pastors whose homes sustained flooding. These faithful servants have constantly helped others in their times of crisis, and are now experiencing one of their own. Generous partners like Mercury One and others are enabling Somebody Cares to help them get back on their feet as quickly as possible so they can continue ministering to others. Assessments in communities across Central Texas and Oklahoma also continue.
As relief efforts turn into recovery and media attention dies down, your continuing prayers and financial support are vital! Donate now!