Somebody Cares has been bringing help to victims of the tragic tornadoes that struck the Dallas, Texas area on December 26, claiming 11 lives and damaging or destroying more than 1,400 homes in four counties. One of the tornadoes was ranked EF4 and left behind a 13-mile path of destruction from Garland to Rowlett.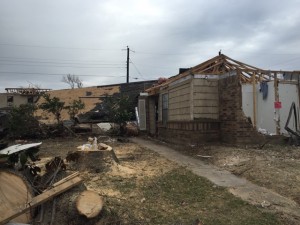 Partnering with network ministries, Mercury One, and other generous supporters, we've been able to distribute nearly $5000 in gift cards to churches for their hurting community members as well as provide critical counsel and support to local churches in their relief efforts. Locations receiving gift cards and other assistance include:
Rowlett: After working closely with the city in setting up a volunteer center, First Baptist Church leaders are committed to long-term rebuilding. Somebody Cares Field Rep Mark Roye met with Pastor Cole Hedgecock to identify families whose homes need cleanup, repair, and replacement of household goods. One of those homes belongs to a deacon at the church. Pastor Cole expressed that "he is one of the most faithful in serving others."  Somebody Cares is now working on details on how best to assist this and other families in Rowlett.
Mark and Pastor Cole are also forming plans for a Spring Break work camp for youth to help the community recover.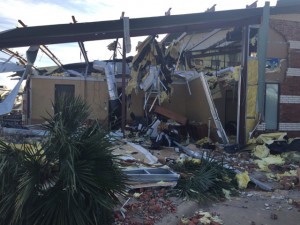 Garland: Even though their building was destroyed by the storm, Oasis Church opened up its property to ministry partner Mercy Chefs, who served first responders over 6,000 meals during the course of two weeks. "The area around the church was hit very hard," Mark reports. The church has insurance, but a damaged foundation needs to be removed. "This cost will have a major impact on their ability to rebuild." Oasis has had a strong presence in the Garland area, and Somebody Cares continues discussing ways to help Oasis and their hard-hit community.
Glen Heights: Approximately 100 homes were damaged in the small community of Glen Heights. The city does not have a large tax base, and city budgets are stressed." Somebody Cares is working with Mark Gonzalez from the Hispanic Prayer Network, to distribute gift cards and consider potential work projects.
"We've been in contact with churches that want to help," Mark Roye says. As things develop, work projects for teams will be available.
With your continuing generosity in giving finances and other resources, we can continue to bring hope and healing to tornado victims. Thank you for caring!