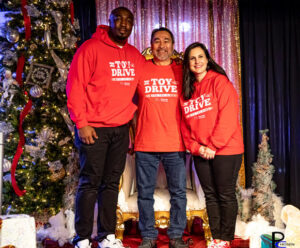 Thanks to generous donations and grants, Somebody Cares was able to help over a dozen churches and organizations in Greater Houston provide a Merry Christmas to hundreds of children, families, and seniors throughout the area.
Fellowship Houston, pastored by long-time friend Vaughn Walwyn, provided gifts for 170 children. "We wanted to create an event that was true to our style of ministry and relevant to our community," Pastor Vaughn explained. "We were told that a large portion of one of the schools we adopted had parents who don't speak English, so we brought in a Latino artist to sing some songs in Spanish and help us translate the Gospel. Over 30 hands were raised when we asked who accepted Christ in their life!"
The event also included hot cocoa, candy canes, and cookies for everyone in the family, along with gift cards from restaurants and Visa cards to help with additional needs. Children were able to take pictures with Santa Claus and The Grinch. Families that were unable to make it to the event had their toys delivered to their homes.
"It's really a blessing for my kids to actually get something nice for Christmas through this organization because it's been really tough during the pandemic," one mother said. "I really thank God for this church and this organization, and everything they're doing for the community."
"It's easy to get excited about the gifts," Pastor Vaughn reminded the crowd. "But we need to get excited about the Gift Giver, Jesus!"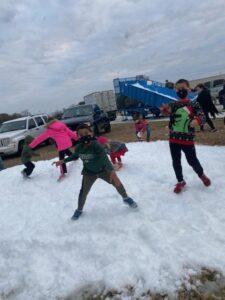 Earlier in December, The Church on MastersRoad in Manvel hosted a Christmas festival for the community, with over 800 people attending. The event included games, a rock wall, cookie decorating, a snow hill, Christmas music, a train ride, and a drive-in movie complete with popcorn and treats. The church also served turkey legs, hot dogs, corn in a cup, wassail, hot cocoa, and cookies. Best of all, the entire event was free of charge.
"We were able to meet a physical need while planting a seed of hope and the joy we have in Jesus," said Deanna Decker, who serves at the church.
One volunteer overheard a teenage daughter wishing she could climb the rock wall. The mom replied, "Honey, I'm sorry, you know we can't afford anything extra." "Excuse me," said the volunteer, "everything is free of charge." "What? You mean I can go on the rock wall, decorate cookies, slide down the snow hill, and eat?" "Yes, you can do it all!" The mom and daughter ran off arm in arm, laughing.
Another volunteer was especially touched by a grandmother who was there with her nine grandchildren. "She told me what a gift this event was," said the volunteer. She often cares for all of her grandchildren but she normally can't afford to take them anywhere. Some of their parents have lost their jobs due to covid shutdowns and are working several smaller jobs to make ends meet, so she is caring for the children even more now. The volunteer invited her to come to church services, and she and the children were there the following Sunday.
In a separate initiative, the church worked with local schools to provide gifts for students who are homeless or in foster care. Each gift and each recipient were prayed over during a gift-wrapping party.
"It is because of your generosity and grace that we were able to provide for all the kids that were presented to us, and do it with excellence," Deanna said.
Other outreach events included: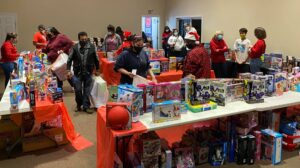 Church on Fire Christian Center hosted an outreach event where toys were distributed for 263 children. With tears in his eyes, one father explained how his hours were significantly reduced due to Covid, and he didn't know where he was going to get money for Christmas. "He felt really bad because he's the man of the house and not able to support his family by providing everything they need," said Pastors Donnell and Stephanie Vigers. If not for the toy giveaway, his children would not have any gifts this Christmas. "Thank you, Doug and Lisa Stringer, for your generosity, love, and support," the Vigers added. "You gave us an opportunity to serve those in need, and it was such a blessing to us and them. We love you and SCA." CLICK HERE FOR VIDEO REPORT!
Church on Fire used a portion of their grant to partner with iPray On Campus for a community outreach in Richmond/Fort Bend County on Christmas Eve. "This region is a low income neighborhood with many trailer homes," said Gideon Stanley from iPray. "We wanted to put a smile on the faces of many of the children in this region by giving out toys and also gift cards for some of the families." The event also included Christmas music by worship leader Eddie James, he said. "We were able to give out toys to about 40 kids and 20 gift cards. We also visited some families in the neighborhood that did not come to the event but were watching from a distance. The kids were overwhelmed with joy. Thanks to Pastor Doug, Somebody Cares, and Pastors Donnell and Stephanie Vigers for helping us get the toys."
YWAM Houston served 240 adults and over 200 children during their annual Montrose Street Reach Christmas event, held in partnership with Joe Williams Ministries. The SCA grant was used to purchase sleeping bags for street kids and other homeless individuals. "Thanks to SCA so, so much!" they said. "It was a fantastic event and Jesus was surely glorified in everything. God is amazing!"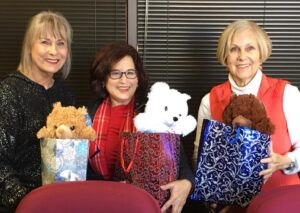 Seniority Services provided comfort care items to seniors and caregivers, including 110 gift bags that were delivered to shut-ins; blankets and throws; toiletries and emergency supplies; greeting cards; HEB gift cards; and gift bags to caregivers of nursing home residents. "I continue to receive calls expressing what a surprise the gifts were and repeated expressions of thanks for the thoughtfulness that went into the gift items selected," said Susie Wolf, Seniority Services founder and president. "Connections continue with retired nurses, widows, and more. This has opened the door for more outreach to the community."
Holocaust Remembrance Association delivered Hanukkah gifts, including $20 gift cards, to 94 Holocaust survivors and their families. Grant funds were also used to purchase and distribute stone painting kits throughout the area. This special project is designed to memorialize the 1.5 million Jewish children who perished in the Holocaust, utilizing kits that consist of 20 blank stones, paint, paint brushes, pen and the names and details of 20 children. "These kits are being distributed to schools, clubs, nursing homes and families. Old and young alike are painting stones at the Nathaniel Center and venues around the area," said Rozalie Jerome, Executive Director.
Centro De Fe (Faith Center) Church in Brookside/Pearland held an outreach with gifts for kids, purchase through the SCA grant. They also distributed food and groceries, which is part of their ongoing outreach to the community. "We and our Somebody Cares Houston and America teams have been blessed and happy to be a partner with Centro De Fe since the aftermath of Hurricane Harvey and also now in assisting them and many families who have struggled with difficulties this Christmas season," Doug Stringer said. CLICK HERE FOR VIDEO REPORT!
Other participating churches include: Calvary Community Church, 1 Team 1 Fight, Hebron Church, Elijah Rising, and Free Indeed Community Works CDC.
Thanks to these and all of our other partners for being the hands and feet of Jesus at Christmas and all year long!