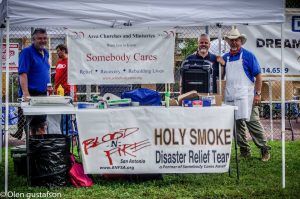 Over 275 families from the recently flooded Biscayne Apartment Complex in Houston were served during a Saturday's outreach. God answered prayers as the rain subsided as the outreach began. Volunteers from Somebody Cares, Dream Center Gulf Coast and 16 churches from the Greater Houston Area were on hand to assist about 1,000 men, women and children as they served hot meals, prayed with residents, distributed items to flooded families, and brought hope in the midst of this crisis.
All the families were registered for further assistance, and were able to take home needed items selected from a wide variety of resources on-hand, like: toiletries, diapers, new sheets and comforters, baby clothing, cleaning kits (brooms, buckets and other supplies), Bibles. Somebody Cares bears and more. They were served hot meals by Holy Smokes barbeque, and were encouraged to know they have not been forgotten.
Special thanks to partners like Kiolboassa Sausage, Mercury One, Victims Relief Ministries, Houston area churches, the Red Cross, and our over sixty volunteers who helped make this special day possible.
Somebody Cares will continue to assist these and other families throughout the Greater Houston area on their road to recovery as resources allow.  Join flood relief efforts with a gift today!
Photos from the Biscayne Apartment Complex: