From the onset of the coronavirus pandemic, Somebody Cares has been serving those impacted. From sending out 90,000 N95 masks to health care workers and first responders to partnering with churches throughout Houston to provide support for those needing extra help during this time, our team has been busy providing aid.
Due to the generosity of a Houston area foundation, Somebody Cares has also been helping Houstonians who are struggling financially from the shutdown. With closures extending from weeks to months, countless people lost income and had increased expenses. Many of those affected by the pandemic were already going through personal crises, such as dealing with the loss of a loved one; losing jobs and not being able to find new ones; contending with a long-term illness; and more.
You can imagine the relief and gratitude of those we are able to help! Read a few of their comments:
"As I sit here and finish my application, it helped me realize that God will get us through this. I am truly grateful to this organization and all around the world helping and loving one another. Somebody does truly cares." Rodrick
"I want to thank you for helping us. You have no idea how much it means to me. And a prayer for employment." Charissa
"I wanted to share the extreme level of gratitude and thanks from Ms. Johnson. I spoke with her today which is actually her birthday and she said this was the best ever. Thanks for all that you do." Rochelle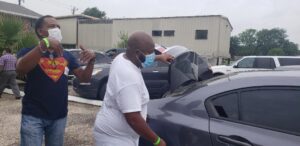 While we are honored to offer help in their time of need, many are just as grateful for the prayer support! Please join us in praying for so many who are still hurting during this time. Here are a few of their prayer requests:
"I would like prayers for stability in this time of uncertainty. And I would like prayers to stay optimistic and not let depression creep in." Charice
"I am getting older and want to be able to continue giving it my all and not feel alone." Ena
"We serve the community. Please pray we can continue to give and not get weary." Evelin
"Prayers for our family to get through this pandemic." Maria
"Please pray for me and my family as I lost my husband due to COVID 19. I'm 78 years old and need all the assistance I can get. Thank you!" Mattie
"Pray for my family and everyone else going through this situation." Veronica
"The kids start school in person and I pray there is no break out of COVID around the schools." Erin
"Prayer for another job at the end of the month. Prayer for favor in submitting job applications." Arrica
We are grateful to the donors and for the local churches that are reaching out to applicants in need of COVID relief. We truly couldn't do it without "the NET that WORKS." Somebody Cares has been able to pay 178 bills thus far in the Greater Houston area because of generous donors like you!
Please consider a generous donation to assist with those impacted by COVID, recent disasters like Hurricanes Laura and Sally, and the wildfires out west.
Thank you for caring!