"I had been so stressed and worried about the money for my rent," wrote Tunisia, one of the many people in Houston who now know Somebody Cares in the midst of the pandemic. "The extra money we had coming in was cut short due to my daughter's hours getting cut short. Now we don't have to worry about being evicted and have additional help on the way. We needed this extra breathing room."
As in many other cities, the Greater Houston area has contended with COVID-related stay-at-home orders since early March that have shut down numerous places of employment and caused economic hardship for thousands.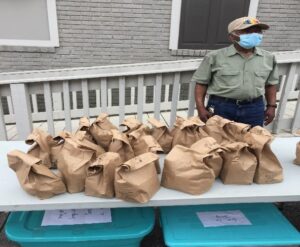 In May, Somebody Cares was blessed to receive a grant from a generous local foundation allowing us to help churches and ministries in our Somebody Cares Houston network to protect and feed people in their communities who have been adversely affected by these shut-downs. During these two months, SCA has distributed $17,300 of grant funds to churches and non-profits specifically meeting COVID-related needs in their communities.
"Churches and organizations in the Somebody Cares Houston network have handed out PPE, groceries, and provided over 4,000 hot meals for 839 families in the Greater Houston Area utilizing funding from this grant program," says Laura Moorehead, Houston Disaster Relief Manager. "They have truly let the Lord work through them and lived out the miracle of fishes and loaves."
Some of these initiatives include:
• YWAM Houston: Feeding at least 100 homeless individuals twice a week since receiving their grant in May.
• The Church on MastersRoad: Served 500 hot meals every Friday in June in a drive-through fashion, with guests invited to stay for a drive-in movie.
• Rose of Sharon Baptist Missionary Baptist and ActionS Inc. of Brazoria County: Aiding seniors who are at high risk for this virus in their communities.
• The Premier Center: Gave groceries to 575 families.
• Ashford Community Church: Distributed groceries and gift cards for 60 families.
• 1 Team, 1 Fight: Providing hot meals, gas, and groceries.
Somebody Cares has also filled 102 requests for assistance with rent, utilities, etc., from individuals and families.
"Single parent homes face unique struggles, with their children at home due to school districts and daycare closures," Laura explains. "Not only are they enduring more costs for groceries and higher utility bills, having children at home prohibits them from returning to work when they are able. Many Americans live pay check to pay check so missing several weeks of work leaves them desperate, with some even facing eviction."
As always, Somebody Cares chooses to partner with local churches so they can build relationships with recipients and minister to them beyond their physical needs. Calvin and Helen Miller from 1 Team, 1 Fight enthusiastically explain: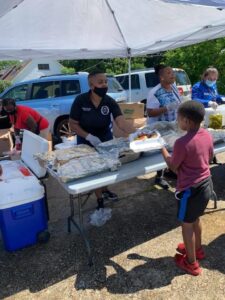 "Glory to God for using Somebody Cares to entrust us as a ministry partner to host community events, hold micro-­mission outreaches, and screen applicants who have been affected by Covid-19 in some capacity. At our recent community event, we were able to distribute hot meals along with travel-sized hand sanitizers, masks, hygiene products, clothes, and shoes. We have delivered grocery items to the doorstep of a family who has Covid-19. We were also able to fill up a single mother's tank with $20 worth of gas to get to work for the week. She just obtained employment after struggling to get hired during the pandemic."
They added: "It has been a blessing to bring hope, peace, and relief to each person we have served. We have personally witnessed faith being strengthened and the weight of worry falling off, in Jesus' name! We look forward to continuing to provide relief through prayer, resources, and the funds we've received."
Somebody Cares Chapters and Centers across the country also continue to help the homeless, seniors, and families struggling to make ends meet during this challenging time. You can join us in being a tangible expression of God's love to those with real needs right now by supporting our efforts with a gift today!