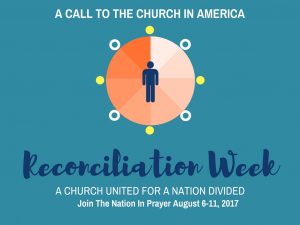 We live in a nation divided. Division, fighting, and factions not only mark our nation but also the Church. The only answer to a nation divided is a Church united!
Somebody Cares invites churches across America to join us for Reconciliation Week, August 6-11, through intentional times of prayer and intercession. Here are ways you can participate:
On Sunday August 6, we encourage you to share a message and/or engage in a corporate prayer focused on being the Church reconciled. Through repentance, we take responsibility for the condition of the land; through declaration and compassionate action, we become ministers of reconciliation, the answer to Jesus' prayer in John 17.

August 7 – 11, we will be releasing a daily corporate prayer focusing on the reconciled Church, followed by a call to become a tangible expression of Christ. Join us in daily prayer by checking this post for updates or  

by accepting our Facebook event invitation here.

Gather with other churches or leaders in your community, crossing racial and denominational lines to pray and worship together. In Houston, we are concluding the week by 

gathering together 

at a church that was formerly one of only two theaters in the city where blacks could watch movies. But for over 50 years, it has been a beacon of hope and healing!
"As we become reconciled to one another, we become a plumb line of righteousness and justice," says Doug Stringer. "Will you join us?"
For more information contact the Somebody Cares office by email or phone, 713-621-1498.