Like many of you, our hearts are breaking over reports from this past week coming out of Mexico, Puerto Rico, and the Virgin Islands. Even as we continue long-term hurricane recovery throughout the Gulf Coast of Texas, we are also mobilizing assistance to these areas as well as various locations throughout Florida.
Mexico City Earthquake
Working through partners Centro de Fe churches in Mexico we have provided financial assistance to help responders meet immediate needs. Centro de Fe has now received approval to  bring in truckloads of supplies into Mexico City to be distributed through local churches and other points of distribution. We are also working with Grace International and other organizations to see how we can provide additional assistance.
Hurricane Maria 
Our Somebody Cares Tampa Bay chapter has procured and delivered 100 generators by plane into Puerto Rico following the devastation left by Hurricane Maria. In addition, we are sending a truckload of water and other supplies to our partner Crisis Relief International to ship along with other desperately needed supplies into the Virgin Islands. We will continue to send supplies and other aid as resources allow.
Hurricane Irma
Somebody Cares America has partnered with The Lindell Foundation and Navillus to help open a staging area in the Florida Keys to assist those returning to assess the damage and start clean-up.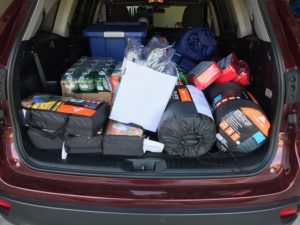 In Tampa Bay, our local chapter provided hot meals to those without power in that region, as well as mobilizing help for clean up efforts.
Our St. Augustine chapter mobilized local churches for three clean-up days and provided hundreds of heavy duty contractor trash bags to help remove debris from yards all overthe city. As they did after Hurricane Matthew, SCSTA partnered with Home Again St.Johns County to help meet the needs of the homeless population who lost everything during the storm. "Many were picked up and bused to shelters only to return and find their camps and what little they owned destroyed," explained SCSTA founder, John Clifton. With the help of Somebody Cares America, SCSTA was able to provide tents, camp stoves, Coleman propane canisters, sleeping bags, tarps, lanterns, first aid kits, and personal hygiene items.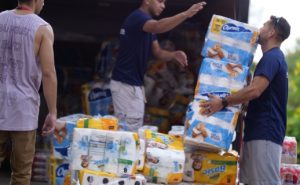 Hurricane Harvey
Our massive relief and recovery effort continues in Texas. The Somebody Cares network has:
Facilitated 50+ truck/trailer loads of supplies into Harvey affected areas to meet immediate needs of individuals and communities from Rockport, through Greater Houston, along the coast, and in rural areas in Southeast Texas;

Distribution of over $50,000 worth of gift cards through local churches to those impacted by Harvey so they can get fuel for their cars, medicines, and other items they desperately need;

Provided grants to many churches and organizations to help shelter evacuees, provide hot meals, equip teams for cleaning out homes, repair damage to church and ministry buildings so relief efforts can continue, and more;

Served tens of thousands of hot meals to first responders and those affected by the flooding;

Mobilized thousands of hours of volunteer clean-up crews to help families clean out and sanitize homes after flood waters;

A

nswered countless other cries for help;

And so much more!
Georgina, a single mom with three children called our office last week. Her home sustained three feet of flooding and, with nowhere else to go, her family was still living there. In addition to trying to maintain her job, Georgina was also trying to help her terminally ill sister. She had neither the resources nor energy to clean out her flooded home and was concerned about mold and the health of her family. She was desperate for help. Somebody Cares connected her with one of our partners, Christian Temple Church, that sent a team over right away to help. That weekend, they removed all the damaged drywall, flooring, furniture, and other items that needed to go, then they took her out for dinner that evening and prayed with her. Georgina said she could not remember the last time she sat down and had a meal.
There are thousands of others who, like Georgina, need help in so many ways. And thanks to friends and partners like you, the Somebody Cares network is there to be a tangible expression of God's love to them.
Please continue to pray for everyone affected by these tragic events, and those sacrificially responding to their needs. And consider donating to help with these disaster response efforts!
Thank you for caring!