Somebody Cares America (SCA) coalition partners have converged from across the country to provide assistance to tornado stricken communities in the South and Midwest.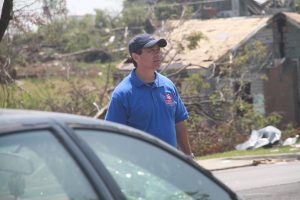 After the first system of Tornados wrecked havoc in the South, SCA deployed aid immediately. In Alabama alone, SCA is partnering with 14 local churches and agencies to distribute aid like water, juice, non-perishable foods, toiletries, baby goods and tarps in 16 communities. Our volunteer teams, some from as far away as Minneapolis and Boston have provided 12,000 hot meals, chainsaw crews for tree removal, hundreds of hours of debris removal and tarping roofs, Chaplaincy services and grief counseling, as well as the distribution of truckloads of relief supplies. Assistance is also being provided in Tennessee and Virginia communities that were hit.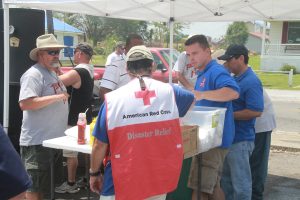 When Nicole Remini and her husband David Wiskow drove across the country from Minneapolis to Alabama to help with tornado relief in Birmingham, little did they know God had plans to connect them with something "bigger than themselves." As the sister of The Talk hostess Leah Remini, Nicole found herself on national television alongside Somebody Cares president Doug Stringer and SC Birmingham representative Jody Trautwein as CBS shined the spotlight on SCA's work in that area. Nicole and David were so impacted by the work of Somebody Cares that they headed home with plans to begin SC Minneapolis. But on Sunday, May 22, even before reached their destination, Northern Minneapolis was hit with a tornado and they were mobilizing efforts as they drove home. Connecting with long-time partners Mike Lynch of BloodNFire Minneapolis, Nicole and David were working with their local church and community on behalf of Somebody Cares.
The coalition has deployed again to provide help and care to survivors of the massive tornado that devastated Joplin, MO. Teams and equipment to supply hot meals are on the way. Resources are being gathered to send. And chaplain services are being offered to help residents deal with the grief of tremendous loss.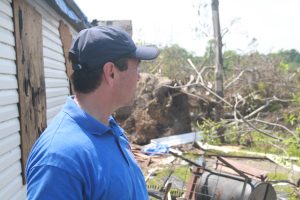 Coalition partners working together to rally relief for storm victims include BloodNFire, Christian Alliance, City Blessing Churches, Crisis Relief International, Medical Mission Adventures, various Somebody Cares chapters, Victim Relief Ministries and others.
Please pray for all those affected in Joplin and other tornado stricken communities across the country as well as all the organizations and partner ministries deploying in them. In the midst of an escalation of natural disasters, our resources, manpower, and capabilities to be first responders are spread thin. Coalition partners need food, fuel, finances, and other resources. We need God's intervention and mercy, and ask Him for a multiplication of our fishes and loaves.
Your prayers and support are greatly appreciated. Donate Now!.