East Baltimore has had the reputation of being one of the most violent and poor areas in Maryland. Angela Koukoui recently told Somebody Cares Baltimore, "growing up in East Baltimore in the mid 80s to early 90s, drugs and teen pregnancy was at an all-time high, and like many other families there, my mother was faced with having to take care of the household by herself while my father was in and out of drug treatment programs." The same situation is found today. Recently the Eastern District has been further rocked by the senseless shootings of 12-year-old Sean Johnson in May, 2011 and 13-year-old Monae Turnage in March, 2012 in the Darley Park community where homicide rates are at an all-time high reports the Baltimore Brew.
Because of partners like you, we are investing in communities like Baltimore, MD through mobilizing prayer initiatives, empowering leadership, and equipping compassion and disaster response. Let's take a look at some of the lives that are being impacted just this summer by your support of SCA.
In the midst of hardship, Somebody Cares Baltimore and the Transformation Team are bringing fresh hope and vitality to families there by offering tangible expressions of God's love through initiatives like Days of Hope, and I Can Do It! Music and Art Camp this summer.
Day of Hope
Over 550 volunteers helped put on 2 Days of Hope in East Baltimore this summer, one in Collington Square Park, and the lastest one in Darley Park Community.  They came to demonstrate hope and that somebody cares about each Guest of Honor. These volunteers are made of people from local churches, community associations, local police,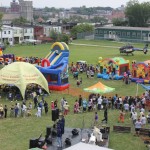 mission teams from around the country, business owners, multiple service providers and churches from across the region. These are people who want to demonstrate that there is hope and somebody cares about each Guest Of Honor. A KidZone, live entertainment, free haircuts, free health screenings, community and housing services, a job fair, and over 60,000 pounds of free food and groceries were made available for area residents! One woman reports, "I've been in the hospital all week (Bon Secour) and the storm hit. I don't have any power and didn't know what I was going to eat today.  So I came here not thinking I would be blessed with a free lunch, groceries and folks that prayed for me.  I feel so much better and glad I took time to come….". A total of 3183 Guests Of Honor were served, half of them children.
In light of the recent murders of Monae, Sean and others, the outreach at Darley Park was particularly redemptive and a ray of sunshine in an area affected by the murders of the two young children. Many faces were lit with smiles that day, and even Monae's mother, Edith, attended the Day of Hope.  She told ABC2News that she has not turned her back on the community, but rather remains hopeful for a "change of mind [and] a change of attitude" in the people of her neighborhood.
Kids Camp
Angela Koukoui grew up in rough East Baltimore, and knows the challenges facing children there.  Instead of moving away for an easier life, Angela is joining hands with Somebody Cares Baltimore by teaching dance at the I Can Do It! Music and Arts Camp near Darley Park this summer. Angela started a dance program called X4D in 2007, offering classes for the youth of Baltimore. Inspired by an arts program in East Baltimore that took her and her brother in when she was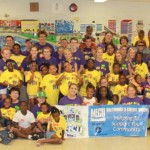 just 14, she says, "It's not easy, but I won't give up on East Baltimore because East Baltimore many years ago, didn't give up on me". Over 80 children learned about theater, music, and dance at the three-day long camps. The kids unleashed their imaginations in Ms. Isa's drama class, flexed their rhythmic muscles in Ms. Angie's dance class, and beat to their own drum in Ms. Alyson's music class.
Through people like Angela and the many volunteers at the Days of Hope, Somebody Cares Baltimore is pouring love and hope into East Baltimore. Their prayer is to see East Baltimore revitalized and men, women and children changed by the power of our loving God.
Just as someone chose to invest and pour hope into Angela many years ago, Somebody Cares believes that HOPE brings life to an area, and is the beginning of bringing lasting change and transformation to communities.
Please continue to pray for Somebody Cares Baltimore – they have more outreaches planned before the end of the year — and partner with us now to see many more communities changed because Somebody Cares!