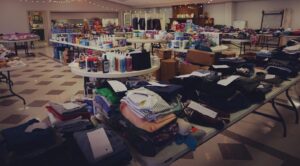 "We did receive your gifts," wrote Pastor Jerry Maston from River of Life Church in Eastland, Texas, after SCA sends aid for wildfire relief. "You have blessed the people so much."
The church has set up a distribution center to assist families affected by the Eastland Complex fire, which began on March 16 and has burned more than 54,000 acres in Eastland County. Pastor Maston reports that at least 80 homes in that community have been completely destroyed. The fire has now been fully contained, but wildfires continue in others parts of the state.
Some residents are setting up tents and temporary structures on their properties so they can begin cleaning up and rebuilding after the fires, but they are in need of electricity. Last week, SCA sent $1400 to River of Life to purchase two electric meter poles for a mother and her daughter, who both lost their homes and everything in them, along with fifty $25 gift cards to distribute to families impacted by the fires.
Eastland County is located about 100 miles west of Fort Worth, and the fire is reported as being the worst in Texas history, surpassing the Bastrop fire of 2011. Somebody Cares was extensively involved in Bastrop relief efforts as well.
Your gift today can help us continue equipping local churches to meet the urgent needs in their communities. CLICK HERE TO GIVE!
Please continue to pray for the families affected by these fires, the first responders trying to contain the fires, and our church partners who are serving their communities.