2022 – A Time to Possess the Land 
Sometimes to know where we're going, we need to hold on to the promises that God has already given us.
It's not just time to cross the Jordan, but to possess the land on the other side.
From 2019 going into 2020, I sensed we were coming into a New Season and a New Era, not just a new year.
Pressure magnifies.
1 Kings 3:16-28 NKJV Solomon's Wise Judgment
The Church needs to walk in discernment and wisdom.
In the midst of difficulties, the church can still walk in authentic unity in our diversity.
We have more in common in the work of the Cross than we do in the things that divide us.
We need to move forward to possess our destiny.
There's a destiny in each of us, no matter what the world says.
We have a deep well to draw from that comes from the river of life that brings healing to and through us.
John 4:13-14 NKJV  Jesus answered and said to her, "Whoever drinks of this water will thirst again, but whoever drinks of the water that I shall give him will never thirst. But the water that I shall give him will become in him a fountain of water springing up into everlasting life."
Revelation 22:1-2 NKJV And he showed me a pure river of water of life, clear as crystal, proceeding from the throne of God and of the Lamb. In the middle of its street, and on either side of the river, was the tree of life, which bore twelve fruits, each tree yielding its fruit every month. The leaves of the tree were for the healing of the nations.
We need to see the Light.
There's a need to know the Light. We need to share the Light. Also, we need to be a Light in a world that desperately needs the Lord.
Furthermore, we need to be set apart as a sanctified, sacrificial, serving, and set forth Church.
Hebrews 12:2 NKJV Looking unto Jesus, the author and finisher of our faith, who for the joy that was set before Him endured the cross, despising the shame, and has sat down at the right hand of the throne of God.
Philippians 4:13 NKJV I can do all things through Christ who strengthens me.
It's time to cast off from the shore and launch out into the deep.
We need deeper consecration and higher expectations.
You cannot change the past, but the choices you make each day define your future.
Hebrews 11:1 NKJV Now faith is the substance of things hoped for, the evidence of things not seen.
We need to keep our vision of Hope to possess the land.
Renewed Covenants, Honoring God, and restoring the Altar of Authentic Worship are needed to bring lasting revival.
God is bigger than any challenge or obstacle.
When confronted with unexpected detours in life, there are some uncommon and uncompromising men and women who arise in greatness for the moment.
Change comes by choice, circumstance, or consequence.
We need to get back to the fundamentals and foundations of repentance, worship, and simple obedience.
1 Corinthians 3:11-13 NKJV For no other foundation can anyone lay than that which is laid, which is Jesus Christ. Now if anyone builds on this foundation with gold, silver, precious stones, wood, hay, straw, each one's work will become clear; for the Day will declare it, because it will be revealed by fire; and the fire will test each one's work, of what sort it is.
Malachi 4 NKJV The Sun of Righteousness shall arise with healing in His wings;…Behold, I will send you Elijah the prophet before the coming of the great and dreadful day of the Lord. And he will turn the hearts of the fathers to the children, and the hearts of the children to their fathers, lest I come and strike the earth with a curse."
Getting back to basics is key to possessing the land.
Getting back to basics – getting back to a love relationship with the Lord, showing Him honor, giving Him His due respect and the best of ourselves, and by dealing rightly with those in our spiritual and natural families
Malachi 3:2-4 NKJV "But who can endure the day of His coming? And who can stand when He appears? For He is like a refiner's fire and like launderers' soap. He will sit as a refiner and a purifier of silver; He will purify the sons of Levi, and purge them as gold and silver, that they may offer to the Lord an offering in righteousness. "Then the offering of Judah and Jerusalem will be pleasant to the Lord, as in the days of old, as in former years.
Romans 12:1 NKJV I beseech you therefore, brethren, by the mercies of God, that you present your bodies a living sacrifice, holy, acceptable to God, which is your reasonable service.
Malachi 3:7 NKJV …Return to Me, and I will return to you," says the Lord of hosts….
The importance of attracting the presence of God
Psalm 25:4 NKJV Show me Your ways, O Lord; Teach me Your paths.
Philippians 3:10 NKJV  That I may know Him and the power of His resurrection…
Matthew 5:16 NKJV Let your light so shine before men, that they may see your good works and glorify your Father in heaven.
Psalm 119:26-40 NKJV I have declared my ways, and You answered me; Teach me Your statutes…
If we're to finish well in life, we should consider the importance of balancing work, leisure, and play for our spiritual, physical, and emotional health.
We need to stay close to our moorings and connections.
We need to get back to the "woe" and the "wow" .
In His presence, we get refreshed, revived, and refired.
We need spiritual clarity and Holy Spirit headlights to get us through the fog.
It's better to have a heart awakening than a rude awakening.
If we're to have corporate revival, it starts with us individually.
Psalm 27:7-14 NKJV Hear, O Lord, when I cry with my voice! Have mercy also upon me, and answer me. When You said, "Seek My face," My heart said to You, "Your face, Lord, I will seek."…
We need a revival of character.
Those who will live for a cause greater than themselves are needed to possess the land.
Joshua 1:6-9 NKJV Be strong and of good courage, for to this people you shall divide as an inheritance the land which I swore to their fathers to give them. Only be strong and very courageous, that you may observe to do according to all the law which Moses My servant commanded you; do not turn from it to the right hand or to the left, that you may prosper wherever you go. This Book of the Law shall not depart from your mouth, but you shall meditate in it day and night, that you may observe to do according to all that is written in it. For then you will make your way prosperous, and then you will have good success. Have I not commanded you? Be strong and of good courage; do not be afraid, nor be dismayed, for the Lord your God is with you wherever you go."
Courage is required to possess the land.
So is righteousness and being in the right relationship with God and one another.
Go and be who God has called you to be.
Luke 21:13 NKJV But it will turn out for you as an occasion for testimony.
Luke 10:25-37 NKJV …So which of these three do you think was neighbor to him who fell among the thieves?" And he said, "He who showed mercy on him." Then Jesus said to him, "Go and do likewise."
Cast on the other side.
God can give us a sense of purpose, vision, and destiny for the future.
Keep your perspective on God who keeps His promises.
"Let others live on the cutting edge. You and I shall live on the edge of eternity." – Leonard Ravenhill
Jeremiah 29:11 NKJV  For I know the thoughts that I think toward you, says the Lord, thoughts of peace and not of evil, to give you a future and a hope.
If I have a posture of humility before God with my expectation in the Lord then there's nothing too difficult for Him.
John 4:35 NKJV Do you not say, 'There are still four months and then comes the harvest'? Behold, I say to you, lift up your eyes and look at the fields, for they are already white for harvest!
Books:
Leadership Awakening by Doug Stringer
It's Time to Cross the Jordan by Doug Stringer (We have to cross the Jordan to possess the land.)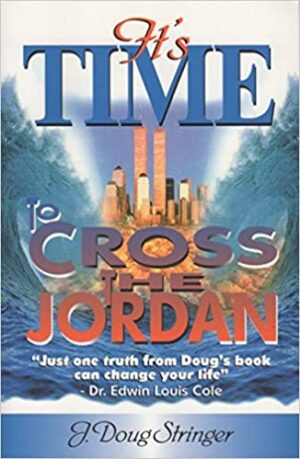 Connect with us:
Let the hurting know that SOMEBODY CARES with a donation to support disaster response and ministry efforts here! To get the latest updates on disaster responses, visit SomebodyCares.org
Share this message with a friend and subscribe for weekly encouragement and inspiration!
Learn more about the ministry at SomebodyCares.org, or by following us on Facebook, YouTube, Rumble or Twitter.
You can also receive weekly Provoke-a-Thought emails, monthly teaching emails, periodic ministry updates, or  join our prayer team by signing up here!
Download a free 30-day devo and/or take our 2 minute survey at AWordInSeasonPodcast.org 
Let the hurting know that SOMEBODY CARES with a donation to support disaster response and ministry efforts here! To get the latest updates on disaster responses, visit SomebodyCares.org