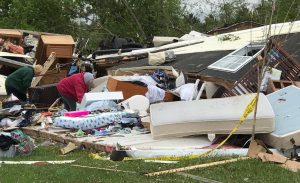 Somebody Cares is on the ground in communities hit by a tornado near Chetek, WI, on May 17. One woman told how she and her three children huddled together in the bathtub for safety. The house was flipped around and the children were tossed out, landing 50 feet away from her. She thanks God that they all escaped with their lives.
Many families lost their homes and possessions. They are now sorting through debris for what little was spared. Somebody Cares representative, Mike Lynch, wrote: "What I'm finding out is families whose homes were totally destroyed are finding only shoe boxes of stuff to pull out of the rubble, but they are so grateful for having their lives!"
Please pray for the people of Chetek and consider a generous donation today to help these families begin the road to recovery. 
Thank you for caring!