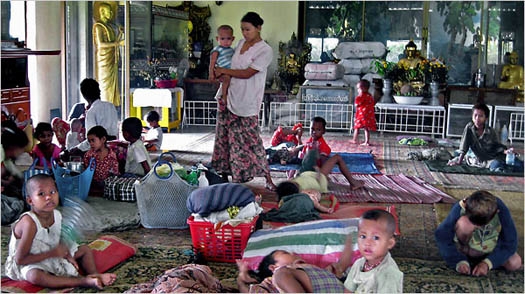 In the wake of a natural catastrophe reminiscent of the tsunami that devastated Banda Aceh, Indonesia, and hit several other locations in Southeast Asia in December 2004, Somebody Cares America/International is connecting with NGOs and front-line ministries based in Myanmar (formerly Burma) and working with U.S. ministries to get assessments and mobilize resources. Official death toll estimates from Cyclone Nargis–which pounded the nation with winds of 120 mph and diluged the coastal villages and towns with a 20-foot wall of water–have ranged from 60,000 to 100,000. Already, assessment teams from some of our ministry partners are prepared to enter when the Myanmar government opens it doors for relief–and when they open, we need to be ready! Your financial gift today will help us:
1. Send manpower for real-time assessments and to help with material needs
2. Have adequate operations and administration resources to respond efficiently and adequately to this and future disasters
3. Send any extra resources to empower ministries already based on-site in the devastated area for their long-term needs
Donate now at  somebodycares.org! Or, you can send your gift by mail to:
Somebody Cares
PO Box 570007
Houston TX 77257
Be watching for updates on relief efforts, prayer requests, and specific needs.
Thank you for caring!