Even in the midst of the storms of life, there are always moments that encourage us to keep going and persevere, that bring us hope that the storm(s) will eventually break. Because of partners like you, we are providing that hope to many victims of Superstorm Sandy … Since Superstorm Sandy hit, our partners at the Refuge Church in Freeport, NY, have been working hard to give out basic necessities like food, water, cleaning supplies, warm clothing and more. They have helped 1000s of families in their area, and given out goods to over 23 local churches and community organizations for distribution. Freeport, a coastal town, has seen extensive damage and has had to shut the majority of its schools as a result of the storm. Many families are dealing with the burden of maintaining jobs and finding care for their children, all while handling the massive destruction, loss, and contamination caused by Sandy – families like the Crowders. As a single mom, Janice Crowder had been struggling for the past 5 years to find adequate housing for her and her 4 children. A year ago, they finally found a little basement apartment in Freeport, NY. Since Freeport is a coastal town, Janice was used to putting her irreplaceable items and important documents in zip-lock bags when her little place would start flooding or leaking because of heavy rainfall. However, nothing prepared her for the overwhelming destruction Superstorm Sandy brought. Sandy flooded her apartment and broke the pipes, causing sewage to leak in which contaminated all their clothing, furniture and belongings. Nothing was salvageable. While Janice was able to safely get her family to a friend's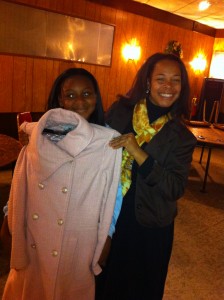 house, they were left with nothing. This brought her to the door of the Refuge Church. There, thanks to a delivery from Somebody Cares in partnership with American Red Cross, her son and daughter received new coats, gloves and socks. Most importantly, she was given the love of Jesus.
Janice broke down and cried with gratitude. She told us, "We lost everything, and have been walking everywhere. My kids have had to walk in shoes without socks on." When she came in again the following week, she said: "My daughter has not had to go to the emergency room since we received warm clothing from you. I haven't had to buy Kleenex for the constant runny noses, and it's given me a week off from having to run to the get Tylenol for their colds. Thank you!" Tina Baker, pastor of the Refuge Church, said the giving was "contagious". So contagious, that she felt to give her car to Janice and help her get a "fresh start". In a joyful voice, she recounted that this was one of "the best ways to go out of the year". Indeed, it has been a blessing to bring hope to so many people in New York and New Jersey! Since Superstorm Sandy hit, Somebody Cares and its partners have been busy setting up various distribution sites to give to those in need in the New Jersey and New York areas. To date, 38 semi-trucks of goods valued at over $2 million, have been delivered to these sites, and have been distributed to 100s of churches & organizations, and 1000s of people. The need is still great. Please help us continue to blessing to Sandy survivors in New York and New Jersey. The recovery process is long, and the reality is that we have only just begun. Even now, there are children like the nearly 600 in Freeport who have no school to go back to, have no homes to return to, and are lacking adequate supplies. Would you consider giving today and bring hope to their lives? There is much more that we can accomplish through your partnership!