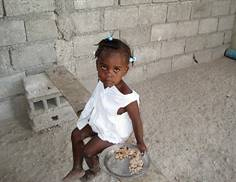 It has been a harsh two months in Haiti since the Earthquake devastated the nation. Even now untold thousands of families are living in flimsy tents and scrounging for food. It is sobering to know that today tens of thousands of precious children in Haiti are going to sleep hungry. That's why Somebody Cares has partnered with ministries such as Kids Against Hunger. Their nutritional rice packet contains a rich source of easily digestible protein, carbohydrates and vitamins needed by a malnourished child's body and mind. One bag of food can provide balanced meals for six children! Somebody Cares is partnering with Kids Against Hunger to get a massive supply of these packs to Haiti.
On a recent trip to Haiti, our team learned of a sad truth about every day life. A mud cookie consisting of water, sand, clay and vanilla flavoring is often given to children to curb their appetite. Without proper fluid intake, over time these "cookies" can block the intestinal tract and can eventually lead to death.
 So in addition to providing food and clean water for both children and adults, SCI will also educate parents on the dangers of the Mud Cookie!