May 2, 2014 – Somebody Cares disaster response teams have been hard at work this week identifying the needs in and mobilizing resources for communities hit by the recent string of tornados.
Vilonia, AR
Somebody Cares quickly dispatched a relief team to Arkansas after tornados devastated several communities there. Mark Roye,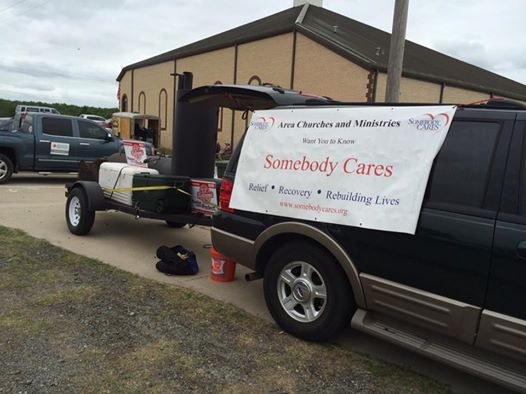 Mike Lynch, and the Holy Smoke cook team met up with ministry friends from Mercy Chefs in Vilonia and began serving hot meals to residents and volunteer relief workers in the region. In the first 2 days alone over 1,100 meals were served!
Somebody Cares team leader, Mark Roye, has been mobilizing resources, like a 54ft trailer generously loaned by Wal-Mart for storing other donated supplies.  He is also connecting with area pastors involved in relief efforts to plan for the next phase in the relief process. Several of the other relief organizations will be pulling out of Vilonia this weekend, leaving a huge gap in services. Home by home assessments are needed to determine where work teams and addition assistance are needed.  Mark will be speaking at a Pastor's Prayer Breakfast on Monday, where discussions for long-term recovery are planned.  Please keep this meeting in your prayers.
Somebody Cares is providing gift cards through local churches to those affected by the tornados, so they can replace basic necessities that were lost.  Teddy bears are also being sent to help comfort the children.
Tupelo and Louisville, MS
Tornados also swept through Mississippi leaving destruction in their wake.  Somebody Cares partner, Victim Relief Ministries, has a team of chaplains ministering to those who lost homes, personal items, family and friends.
We have also been talking to representatives from 8 Days of Hope, a Tupelo based relief organizations regarding immediate community needs and longer recovery efforts.
In Louisville first responders are still searching for missing persons in the rubble left by the F4 tornado that ripped apart that community.  As the search ends and recovery begins, we will be offering appropriate assistance and helping families as they pick up the pieces.
Gift cards and teddy bears will also be going to partner churches reaching out to individuals and families in need.
Quapaw, OK and Baxter Springs, KS
The small towns of Quapaw and Baxter Springs, which were hit by tornados last weekend, have been largely been overlooked by many relief agencies due to the needs in bigger communities. Somebody Cares ambassadors, Vickie and Terry Gaskins, are working in Quapaw and Baxter Springs to find unmet needs and coordinate resources, like gift cards, teddy bears and more through the Somebody Cares network so families in these more rural areas are also able to recover.
Somebody Cares is sending a truckload of water and sports drinks for distribution in these communities as initial relief efforts turn into long-term recovery efforts.
Special thanks to Kings Ransom Foundation, Mercury One, Wal-Mart, Daily Bread Ministries, Blood-n-Fire San Antonio, Ally Force, Rise to the Time, Victim Relief Ministries and individual partners who are making these relief efforts possible!