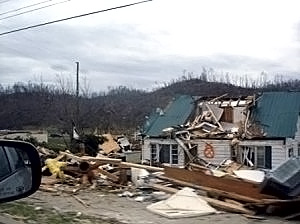 God is answering prayers in Salyersville, KY!  Since we asked for prayer to locate a base camp for responders and supplies to help the community in our update 10 days ago, great things are happening!  Check out the updates below:
Housing for Responders 
The First Baptist Church of Salyersville has provided accommodations for up to 20 people, allowing us to mobilize teams to help with clean-up, feeding and distribution of supplies.
Teams Arrive to Help
Teams have arrived and more are coming from the Somebody Cares "Net that Works".
Blood 'N Fire

of Muncie, IN was the first team to arrive in Salyersville and immediately fired up their Holy Smoke grills and cook BBQ for the survivors and first responders.
Crisis Response International

brought almost 25 people over the course of a week and removed debris, prayed for families affected by the storm, and brought a team of worship leaders. Many were significantly touched by their acts of compassion.
Somebody Cares Denver

has a team of four people in Salyersville now working in the community.
Kentucky

college students

banded together to purchase essential supplies (everything from underwear to radios/batteries and can openers). They are coming to help distribute those items and others as well as help sort clothes.
Victims Relief Ministries

has a team ministering in the areas of spiritual and emotional trauma counseling. Edward Smith and his teams have been a huge blessing to Somebody Cares as we respond to disasters around the globe.
Disaster Relief and Disaster Training

brought men with a bobcat and chainsaws to help in debris remove and construction.
Those loving acts, like debris clean up (nearly complete), crisis counseling, distribution of essential supplies, personal prayer with families who have lost so much, listening to their stories, and ministering the love of Jesus, have brought tremendous healing already to the devastated community of Salyersville.  And seeing teams work in unity is bringing glory to God as well!
We have made divine connections with great pastors and leaders in the Salyersville region who have joined the response and extended property, buildings, houses, volunteers, kitchens, food, showers and many other valuable resources. These connections enable the Somebody Cares Global Compassion Response Network and partner organizations to maximize our response to the hurting in this community. We now have several points of distribution established (thanks to local pastors) and are ready to receive goods!
Rebuilding Salyersville
Immediate needs are great and the road to recovery in Salyersville is long. Almost 150 homes are in need of repair.
Please contact Justin Boland at [email protected] to discuss ways you can help:
· Construction Teams: if you have expertise in construction and would like to assist; 
· Adopt A Family: if your church or organization is interested in "adopting" a family to help them get back on their feet;
· Bulk Supplies: if you have bulk supplies (especially construction materials) to donate for relief efforts;
· Transportation: if you are able to provide transportation for bulk supplies to the base camp
Financial contributions are also greatly needed to acquire urgent supplies and maintain our ongoing compassionate response. Please join us in helping today!
Please continue to pray for those whose lives have been forever impacted by these storms, continued unity between all responding organizations, and for the responders attempting to be the Ark of Refuge for them in this hour of crisis.