Since October 2008, Times Square Church in New York City has been sending teams to the Galveston area for Hurricane Ike relief and rebuilding. The most recent Texas team, however, had the opportunity to help with Haiti relief as they partnered with Somebody Cares for the construction of our first Homes of Hope.
Working with Core Alliance and other non-profits in Haiti, Somebody Cares is providing Homes of Hope for people who are living in the streets, in parks, and in tents pitched amongst the rubble of what was once their homes. The semi-permanent homes are 8′ X 12′ in size with two bunk beds and are extremely durable, offering safety and shelter for families until their homes can be rebuilt. Volunteers across the United States will build the homes, pack them flat, and ship them to Haiti to be assembled by other volunteers in-country.
Reni, one of the 11 team members from Times Square Church, said he did not know what to expect and was a little fearful of being part of a construction project. But soon, he and the rest of the team "got the hang of it," and in just two days had completed six homes!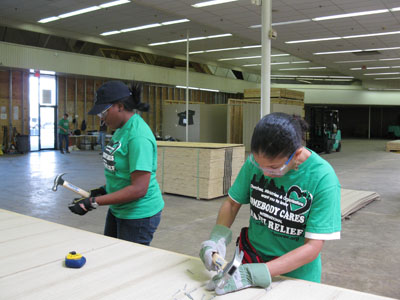 "We worked in an abandoned sporting goods store", he explained when giving a testimony about the trip to the church's congregation, "and there were five basic stations: the floor, the left side and the right side, and the front and back." Reni said the experience proved to him that "God can use anyone, no matter how big or how small, how skilled or unskilled."
The team kept a blog of their trip (www.brickthink.com) and shared the joy of their accomplishments: "In the end we were so excited to see Tom (our instructor at the construction site) lift the finished walls with the forklift and stack them together to be shipped to Haiti! We ended our day by praying over the houses before they're sent to become homes for many people in Haiti.  It was so great to be a part of helping in the relief efforts from here in Galveston, Texas."
Once in Haiti, the homes will be distributed through pastors to families in need, and the pastors will continue to minister to these families as they deal with the trauma and grief they experience due to their tremendous loss.
"When I signed up for this trip," Reni  added, "all I had was an open mind and a willing heart. God just took these hands and these feet, and He made them work."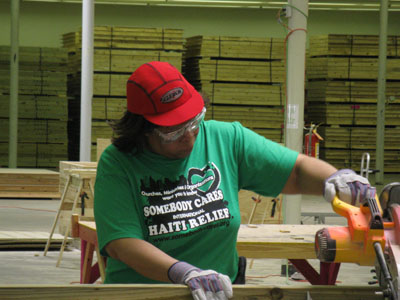 We invite you to prayerfully consider how God can use you or your church! Like Reni and his teammates, all you need is a willing heart. Please consider:
Helping build the homes. Individuals or teams of 8-10 are needed to assemble home kits in Houston, Denver, or Myrtle Beach.
Praying for the Homes of Hope project:
Safety and favor in the building, shipping and assembling process.
Provision for the project.
Health and well being for the families waiting the homes.
For more information, please contact Vickie Gaskins at 713-621-1498. Thank you for caring!