Our Guest: Mary Beth Gilbert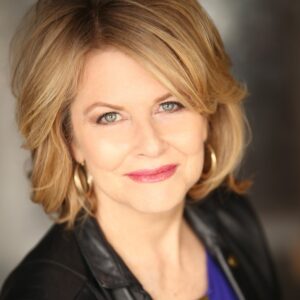 Mary Beth Gilbert is passionate about encouraging women to find their identity and fulfill their destiny in the Lord. She desires to come along-side women to help them grow in different areas of their lives. Married for over 36 years, Mary Beth uses her knowledge and wisdom in helping other women walk through different seasons of their lives. She loves to encourage mothers in biblical and practical ways of caring for their children, including the balance of working and mothering.
Mary Beth has served in the ministry for over 32 years, even as she has worked in the business and academic worlds. She is co-founder of EmPowered Living International Ministries and is a National and International Christian Women's Speaker and Bible teacher ministering throughout the United States, United Kingdom, South Korea, Argentina and Kenya, Africa. Mary Beth is a Contributing Author to Women Who Rock. She is married to Dr. Daniel Gilbert and has a daughter, Maria, who is a student at Virginia Tech.
Key Thoughts and Scriptures
Imparting Identity
"I was adopted too. God adopted me. I was only adopted once. You get to be adopted twice." – Mary Beth to her adopted daughter, Maria
"Mommy, I came from your tummy?" "Honey, you came from my heart." "Wow, your heart must have been really big!" "It was, it was this big (with arms stretched out)"
The Lord stretched out His arms that big for all of us on the cross and adopted us.
Real parents are the ones that raise you, love you, and provide for you.
There is a loss that adoptive children have that is real and should be acknowledged.
God had a plan for Maria's life all along.
The stories of God's providential leading in Maria's life helped ground her in her faith.
"Lord, what is it you want me to do here?"
After God moved Mary Beth and her family to California, she was ready to get on the next flight back to the East Coast, but over time God revealed to her that she was in a new mission field.
Psalm 32:8-10 NLT The Lord says, "I will guide you along the best pathway for your life. I will advise you and watch over you. Do not be like a senseless horse or mule that needs a bit and bridle to keep it under control." Many sorrows come to the wicked, but unfailing love surrounds those who trust the Lord.
God's Identity and Outs
God leads us with His unfailing love.
We are people and we are all flawed.
He wants our identity found in Him, because we are all a work in progress.
If we try to force things to stay the same, we're going to miss the blessings that come out of the struggles that we need to learn from.
It's amazing when the Lord uses you in another context, in another culture, where people are hungry for the truth of His Word and the Word of God transcends all nationalities, all identities.
There is always that same basic need for salvation.
God opened the doors for Daniel and Mary Beth to minister to Kenyan pastors simply because they were willing to go.
He gives you the grace to be where He wants you to be.
Therefore, we don't get grace ahead of time; we get it for the moment we're there.
The beautiful thing about God's plan is when we're waiting for something or going through a difficult situation, we have His Grace to get us through.
I want to finish well and God's grace helps us do that.
And God has created our bodies in such a way that it's amazing.
Mary Beth and her family had seen God's providential work so many times that they knew who God was.
Romans 8:28 NLT And we know that God causes everything to work together for the good of those who love God and are called according to his purpose for them.
"God heals three ways. He heals naturally. God created our body to heal itself in many ways.  He heals medically, because all wisdom comes from Him.  And He heals supernaturally. It's up to us to discern and hear from the Lord which way we should go."  Jodie sharing a lesson from Robert Morris, Gateway Church Dallas
God will be God and it's not for me to tell Him how.
Mary Beth and her family walked through the healing process naturally and medically while praying for God to heal supernaturally.
God will be God and it's not for me to tell Him how. I trust God's character, His identity.
The fourth way of healing is to be healed in Heaven.
"God, open the door you want her to walk through next."
Luke 18:1-8 NLT The Parable of the Persistent Widow
Proverbs 17:22 NLT A cheerful heart is good medicine…
You can be brutally honest with God; He can handle it.
Keep moving in the direction that the Lord is calling you to move.
God will be with us, walk with us, and take care of us.
Psalm 138:8 NKJV The Lord will perfect that which concerns me…
You be you because only you can be you best.
1 Corinthians 11:1 NKJV Imitate me, just as I also imitate Christ.
We can imitate the character of God that we admire in other people.
And God knows us better than we know ourselves.
If you're struggling with identity or purpose, God will show you the way because He created you.
God will reveal who He created you to be.
What has God put in your heart?
Esther's story
Esther was put in her position "for such a time as this" to save her people.
And she was direct and bold with the king.
God wants us to be bold and direct with Him.
Hebrews 4:16 NKJV Let us therefore come boldly to the throne of grace, that we may obtain mercy and find grace to help in time of need.
God worked within the culture to accomplish His purposes.
We need to go back to God even when we make a mess of things and be courageous to do what He tells us to do.
Psalm 119:68 NLT You are good and do only good; teach me your decrees.
"I'm going to show you My Goodness this year."

I chose to believe that God is good and does only good.
"When I set my mind on that truth, I was amazed. I was joyful and expectant."
Romans 8:29 NLT For God knew his people in advance, and he chose them to become like his Son, so that his Son would be the firstborn among many brothers and sisters.
God is forming us into His likeness.
And the good that God is working in us is making us like Jesus. (Identity)
Colossians 1:13 NKJV He has delivered us from the power of darkness and conveyed us into the kingdom of the Son of His love.
In the process of changing our identity, so we are like Jesus, He enables us to exhibit His goodness and love to others.
When we look at things through God's perspective, we can have confidence that God is a God of Love and He is good.
We get to be vessels of sharing God's love with somebody else, that's God's goodness to us.
Psalm 20:1 NIV May the Lord answer you when you are in distress; may the name of the God of Jacob protect you.
Links:
Connect with Us:
Website: HerGodStory.org
Website: SomebodyCares.org,
Facebook: https://www.facebook.com/SomebodyCaresAmerica/
Youtube:  https://www.youtube.com/user/somebodycaresamerica
Rumble:   https://rumble.com/user/SomebodyCares
Twitter:     https://twitter.com/_SomebodyCares
Somebody Cares Prayer Line (855) 459-CARE (2273)
Want to help Widows and Orphans?
Join our growing company of women meeting special needs of parentless children and nurturing their unique gifts and identities so they can be ALL God has in mind for them!  And help meet real needs of women who have given a lifetime of service to God! Support the Somebody Cares Widows and Orphan fund today!
Share this message with a friend and subscribe for weekly encouragement and inspiration!
You can also receive periodic ministry updates from Somebody Cares, and/or weekly Provoke-a-Thought emails, monthly teaching emails, or  join our prayer team by signing up here!