Our Guest: Mary Beth Gilbert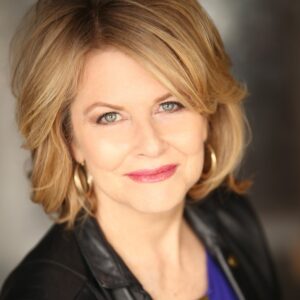 Mary Beth Gilbert is passionate about encouraging women to fulfill their destiny in the Lord. She desires to come along-side women to help them grow in different areas of their lives. Married for over 36 years, Mary Beth uses her knowledge and wisdom in helping other women walk through different seasons of their lives. She loves to encourage mothers in biblical and practical ways of caring for their children, including the balance of working and mothering. Mary Beth has served in the ministry for over 32 years and been a pastor's wife for 20+ years, even as she has worked in the business and academic worlds.
Mary Beth is co-founder of EmPowered Living International Ministries and is a National and International Christian Women's Speaker and Bible teacher ministering throughout the United States, United Kingdom, South Korea, Argentina and Kenya, Africa. She is a Contributing Author to Women Who Rock. She is married to Dr. Daniel Gilbert and has a daughter, Maria, who is a student at Virginia Tech. She currently lives in the Hampton Roads area of Virginia.
Key Thoughts and Scriptures from Mary Beth's story
We can't save ourselves. We need a Savior.
God taught Mary Beth that we can come to God in our mess because He loves us so much.
He spoke all along the way, depositing bits of truth.
God works in the everyday.
Never compromise who you are just to get something or to be popular.
God began to reveal the fear in Mary Beth's heart.
Fear can play havoc with you if you give it time.
Daniel was willing to sacrifice his relationship with Mary Beth  to follow the Lord.
Hebrews 11:6 NKJV But without faith it is impossible to please Him, for he who comes to God must believe that He is, and that He is a rewarder of those who diligently seek Him.
Philippians 4:7 NKJV And the peace of God, which surpasses all understanding, will guard your hearts and minds through Christ Jesus.
"Without risk, you will never get anywhere in life."
God tested them in obedience.
Mary Beth learned that God is faithful. He always provides.
God usually tells us to "Do it" when it's something bigger than ourselves.
We have to have full dependence on Him.
God moves in the imperfect. He doesn't need everything to be perfect to accomplish His purposes.
1 Peter 1:16 NKJV Because it is written, "Be holy, for I am holy."
We think perfection is all our ducks in a row, but He thinks perfection is hearts after Him.
Colossian 3:23 NIV Whatever you do, work at it with all your heart, as working for the Lord, not for human masters.
1 Corinthians 10:31 NIV So whether you eat or drink or whatever you do, do it all for the glory of God.
God brings messages out of our messiness.
"I want you to go and talk to the Lord. Spend the night with the Lord and get in His presence."
"Will you serve Me with or without children?"
2 Kings 4:8-37 NASB  …Then he said, "At this season next year, you are going to embrace a son." And she said, "No, my lord, you man of God, do not lie to your servant."…
Sometimes when we get a word from the Lord, we think we know how it's going to happen. Then when it doesn't happen that way we feel we've missed God.
When you pray fervently, don't limit God on how He can respond.
Isaiah 58:7-8 TLB I want you to share your food with the hungry and bring right into your own homes those who are helpless, poor, and destitute. Clothe those who are cold, and don't hide from relatives who need your help. If you do these things, God will shed his own glorious light upon you. He will heal you; your godliness will lead you forward, goodness will be a shield before you, and the glory of the Lord will protect you from behind.
Micah 6:8 CJB Human being, you have already been told what is good, what Adonai demands of you — no more than to act justly, love grace and walk in purity with your God.
God is God, and I am not.
He works in providential ways that He may make me privy to and He may not.
It all boils down to trust.
There's a level of trust of "I'm not going to worry" because God is working sovereignly.
God opens the womb and God closes the womb.
It wasn't me or my faith and it was not punishment. It was God's doing for His purposes.
One of my biggest disappointments became one of God's biggest divine appointments.
Ruth's Story
Ruth was bold and loyal.
She had dealt with a great loss.
God is involved and is faithful in our everyday circumstances.
Go to the Lord with your disappointments.
Isaiah 54:1 CEV Sing and shout, even though you have never had children! The Lord has promised that you will have more children than someone married for a long time.
A Rhema word is a living word that the Holy Spirit speaks to us at a particular time to answer a question or concern in our life.
God is faithful to fulfill the desires that He puts in your heart.
Psalm 37:4 NIV Take delight in the Lord, and he will give you the desires of your heart.
If you're in a place of disappointment or hurt, don't pull away from the Lord, run to Him.
Read His Word.
Sit in His presence and pour out your heart before Him.
God will meet you and lead you to a better place.
Romans 8:28 NIV And we know that in all things God works for the good of those who love him, who have been called according to his purpose.
Philippians 2:13 NIV For it is God who works in you to will and to act in order to fulfill his good purpose.
Philippians 4:19 NIV And my God will meet all your needs according to the riches of his glory in Christ Jesus.
Deuteronomy 1:11 NIV May the Lord, the God of your ancestors, increase you a thousand times and bless you as he has promised!
Links:
Connect with Us:
Website: HerGodStory.org
Website: SomebodyCares.org,
Facebook: https://www.facebook.com/SomebodyCaresAmerica/
Youtube:  https://www.youtube.com/user/somebodycaresamerica
Rumble:   https://rumble.com/user/SomebodyCares
Twitter:     https://twitter.com/_SomebodyCares
Somebody Cares Prayer Line (855) 459-CARE (2273)
Want to help Widows and Orphans? Join our growing company of women meeting special needs of parentless children and nurturing their unique gifts so they can be ALL God has in mind for them!  And help meet real needs of women who have given a lifetime of service to God! Support the Somebody Cares Widows and Orphan fund today!
Share this message with a friend and subscribe for weekly encouragement and inspiration!
You can also receive periodic ministry updates from Somebody Cares, and/or weekly Provoke-a-Thought emails, monthly teaching emails, or  join our prayer team by signing up here!