Chapter Spotlight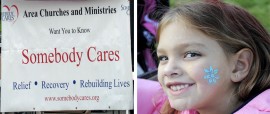 Somebody Cares Picayune provides for the physical, spiritual and emotional needs in their community with the goal of bringing restoration to families and individuals. They do this by partnering with area churches on a variety of ministries throughout the year:
Manna Ministries: Often everyday families struggle to make ends meet. Since its founding, Manna Ministries has provided more than $4 million to aid those families. Services include food and clothing distribution, medical services, drug assistance programs, and a benevolence program.
Kid's Kingdom: A community initiative providing safe and fun playgrounds and parks for families and their children to spend time together, believing that the Lord would heal, restore, and build these families through those places.
Foster Children Christmas Party: Every year a Christmas party is put on for the foster children and families of the area. Activity booths are set up – including one where the kids can take a picture with Santa-, a skit is put on, a delicious meal served, and finally each child is given gifts specially provided by local church members.
Ageless Treasures Ministry: Volunteers visit 5 senior citizen locations at least once a month throughout the year, praying, laughing, crying and singing with the elderly. In addition, special baskets are given to over 250 senior citizens during the Easter season.
Interested in finding out more? Contact SC Picayune at http://www.rlministry.org/. Want to start and/or support similar grassroots and transformation initiatives in your area and across the nation? Start by partnering with us!
Our Story

The "Somebody Cares" concept began in Houston in 1981 when a simple business card reading, "Somebody Cares, call 24 hours a day," was distributed by founder Doug Stringer and others as they ministered to the lost on the streets of Houston.

Get Involved

It is proven that when individuals, churches, businesses and community leaders reach out to help their neighbors, they come alive in the process. Each person helped also becomes a tangible manifestation of God's love and hope, proclaimed to the entire community.

Our Ministries

We are a network of organizations with a defined goal to impact communities through unified grassroots efforts. Our four main ministry areas to transform communities are:

Prayer Initiatives
Compassion Evangelism
Leadership Development
Disaster & Crisis Response